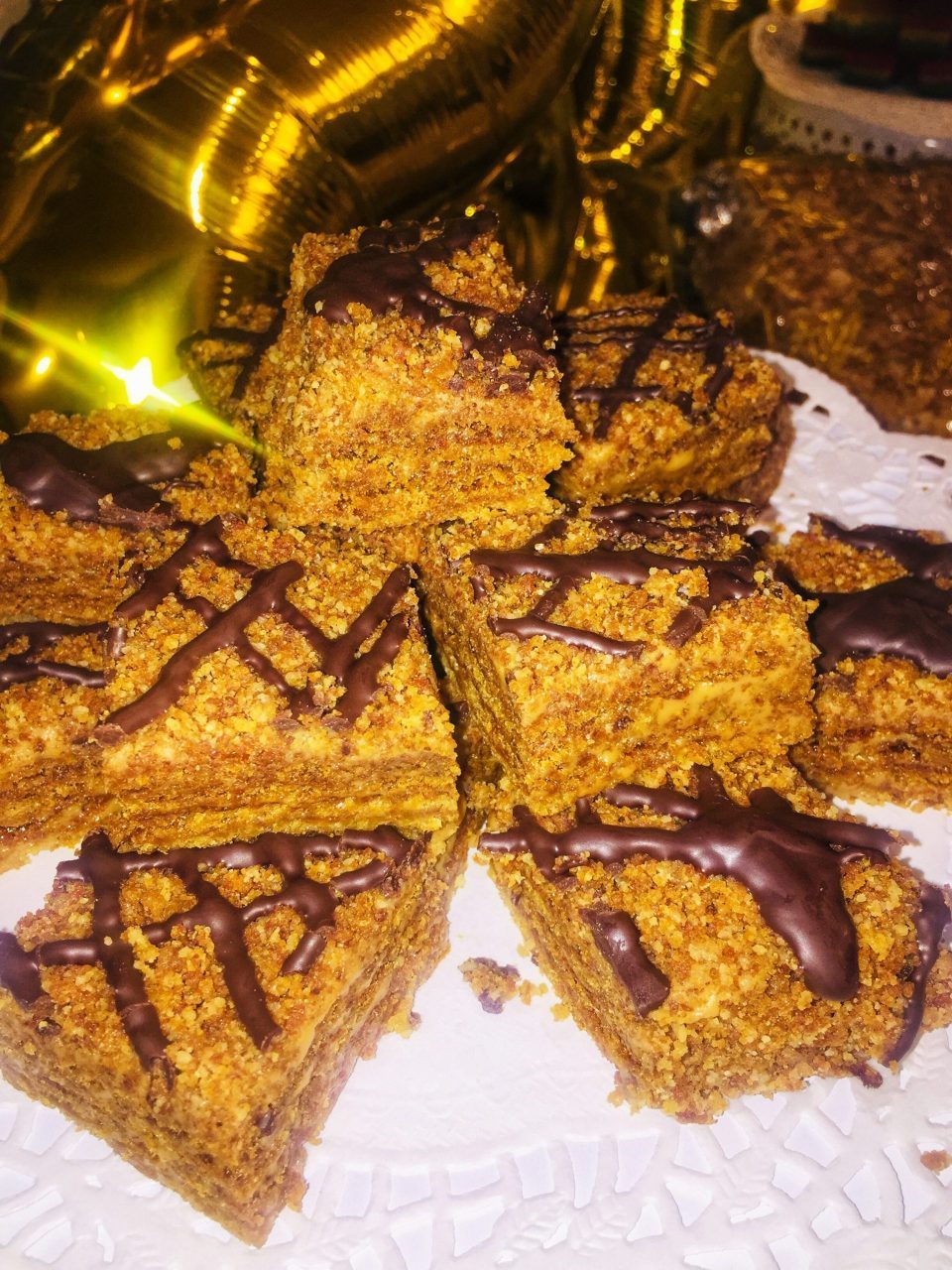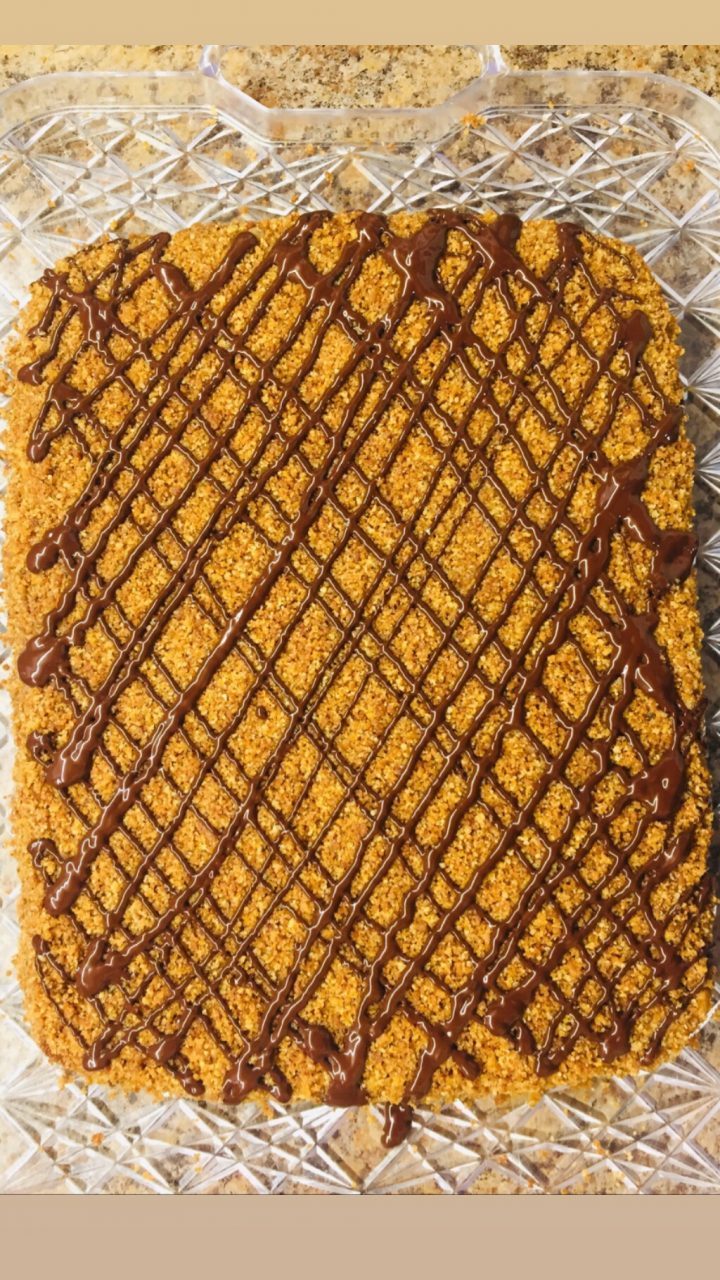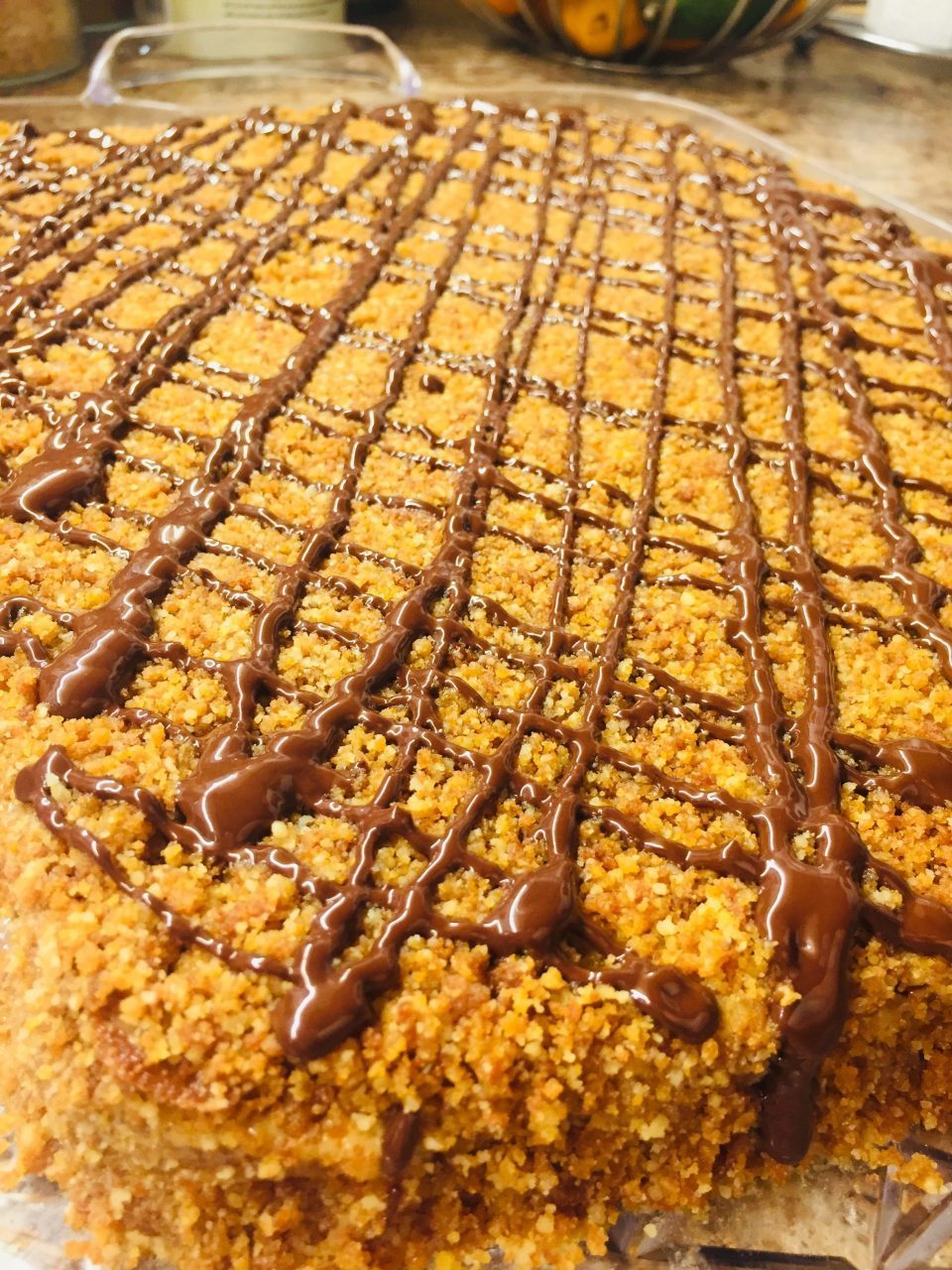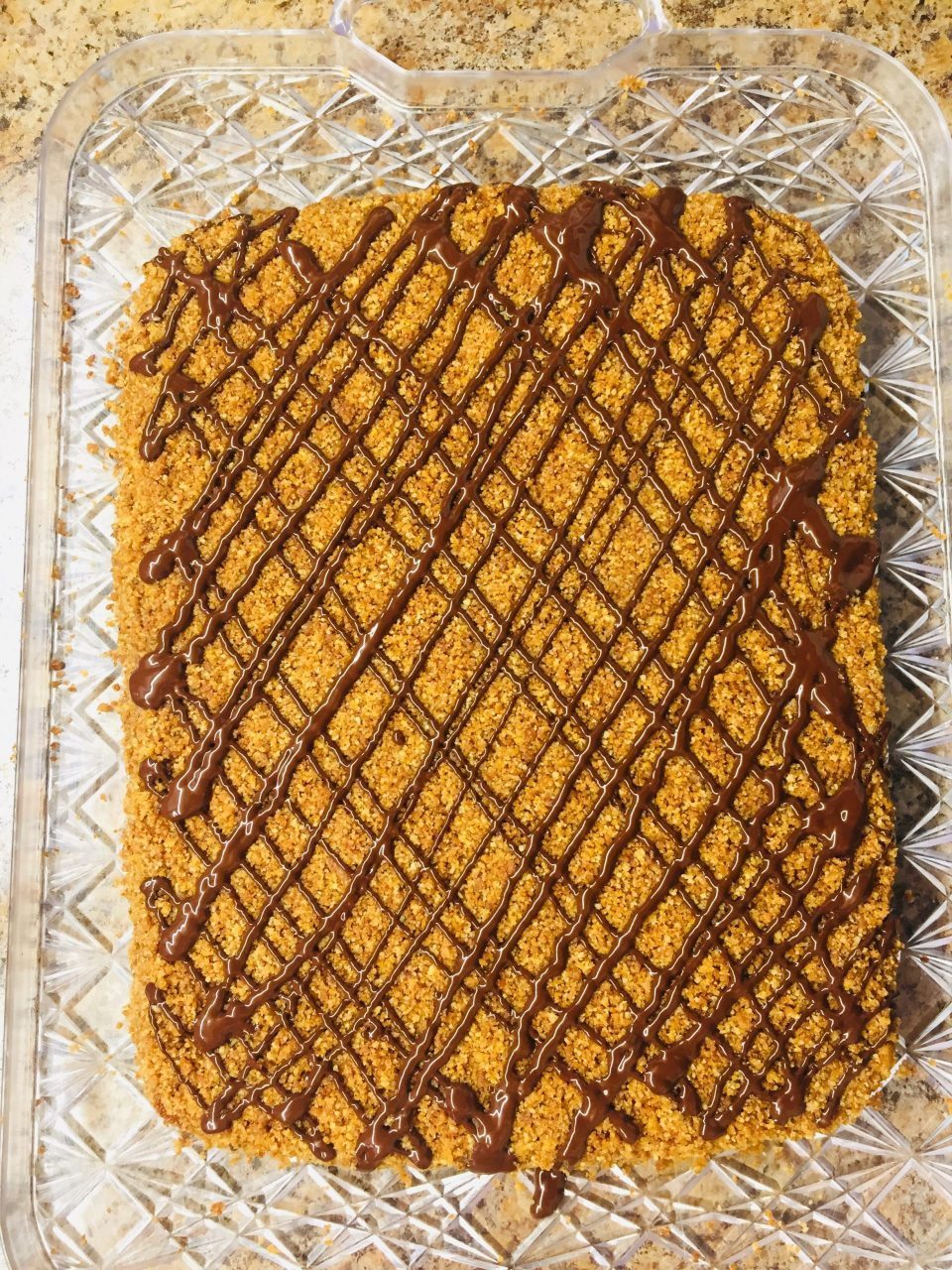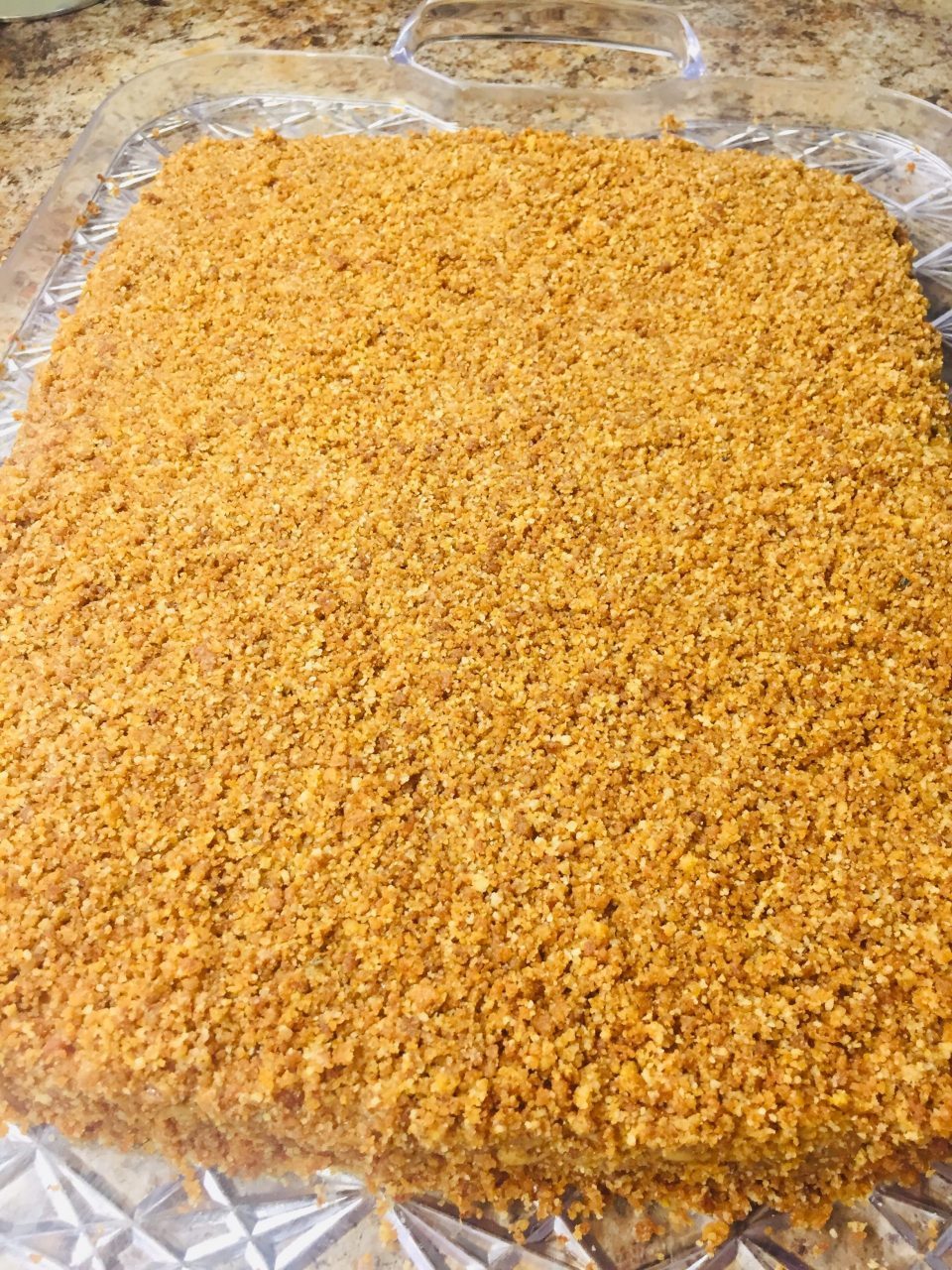 This Honey Cake is one of the most requested holiday desserts in our household. It originated in the 19th century in Russian Empire and has been popular in countries of the former Soviet Union ever since. It is a dessert which is known for its lengthy preparation time and is best made a couple of days in advance before serving. You may bring it completely to room temperature or serve it cold. It's delicious both ways. It's a honey flavored sponge cake with caramel cream filling topped with a nutty crumb. Absolutely decadent to say the least.
Serves: 20-25 people depending on the size of the pieces.
INGREDIENTS:
1 (14oz.) can Organic sweetened condensed milk (I get mine at Trader Joe's) or you can buy pre-made caramel
2 -½ cups Organic Unbleached All Purpose Flour (King Arthur)
1 Tbsp Baking Soda
3 sticks of Organic Grass Fed Unsalted Butter, 1 stick at room temperature (for caramel cream)
¼ cup Organic Clover or Wildflower Honey
3 Large Organic Eggs (I use Pete & Gerry's)
1 ½ cups Organic Evaporated Cane sugar
1 cup Organic Walnuts
1/2 10 oz. Bag of Enjoy Life Dark Chocolate chips for drizzle
Parchment Paper
Pencil
Off-set Spatula
13 x 9 cutting board
Hand Mixer
DIRECTIONS:
Boil your condensed milk submerged in water for 2 hours. ** (see note) Let cool completely. Beat the cooled caramel with 1 stick of butter. Set aside.
Sift your flour along with the baking soda and set aside.
On your parchment paper, trace the shape of your cake with a pencil. I used a 9×13 cutting board with rounded edges. I had enough dough for 4 layers. Therefore I traced four sheets of parchment paper.
Heat oven to 350°F. In a large Pyrex bowl set over a double boiler, melt 2 sticks of butter over medium heat. Whisk in honey until completely combined. Using a hand mixer beat in your eggs one at a time until incorporated . Now add your sugar and beat again for about a minute or so. Now add your flour/soda mixture. Beat until completely incorporated and creamy. Remove the bowl from the double boiler and set on a trivet or kitchen towel. Measure out 1 cup of dough and put it on your parchment paper. Using an off-set spatula spread evenly going just over the edges that you traced. It's not supposed to be perfect because you will trim the layers after they bake again with the cutting board over it. Continue with the rest of the dough until you have 4 parchment papers ready with the dough to be baked. Bake for 5-6 min. Cool completely.
Use the same board you used to trace the parchment paper. Put it over each cookie layer and trace again except this time cut with a paring knife. Separate the edges and put them all into a food processor with walnuts continuing to do the same with the rest of the layers.
Now place the first layer on your serving plate. Start spreading the cream filling with the offset spatula. Try to distribute the cream as even as possible. Continue with the rest of the layer until you have used up the cream filling at the top of the last layer and the sides. Using the crumb-walnut mixture, spread some over the top of the cake and sides. Melt your chocolate, transfer to a sandwich bag and cut off a tiny corner and drizzle over the top. Let the chocolate set. Cover with plastic wrap and refrigerate for 2 days.
*recipe is from Czech Cook Book.