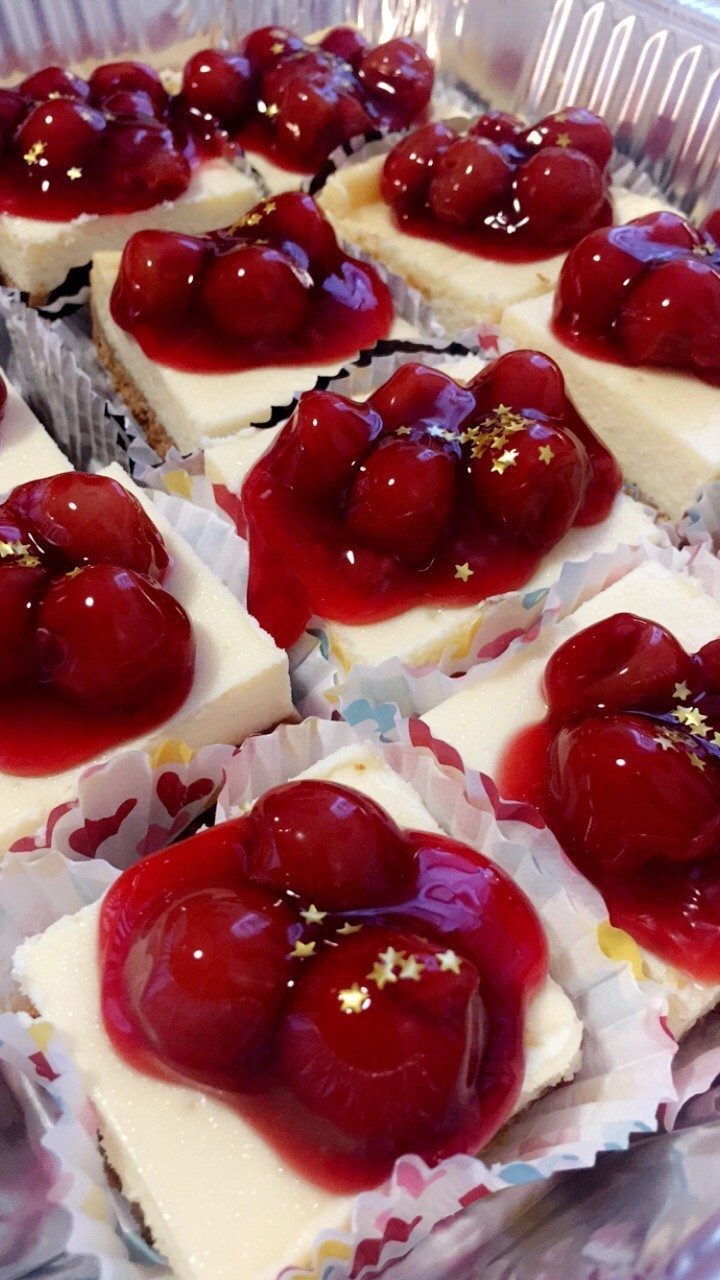 Makes 20 squares
INGREDIENTS:
Crust:
2 sleeves graham crackers (I use the ones from Trader Joe's)
3 Tbsp Unsalted Butter, melted
2 Tbsp sugar (I use organic Evaporated Cane Sugar)
Cheesecake:
3 packages 8oz. Cream Cheese Blocks, room temperature
1 cup sugar
3/4 cup sour cream, room temperature
1.5 tsp vanilla extract
1/4 tsp salt
3 large eggs, room temperature
1 can cherry pie filling, I use Omena Organics Organic Cherry Pie Filling
DIRECTIONS:
Heat oven to 325°F. Line a 9×13″ pan with parchment paper, leaving a 2″ overhang on both sides.
Crust:
Place graham crackers, melted butter and sugar in a food processor and process on medium until its finely ground and incorporated with all the butter.
Pour on to the parchment paper and using the back of a dry measuring cup, press down and even put the layer. Bake for 15 min. Put on the cooling rack (leave the oven on) while you make the filling.
CHEESECAKE FILLING:
In a 9-cup food processor with a dough blade or regular blade, process 3 blocks of cream cheese with sugar, scraping down the sides and some of the bottom with a silicone spatula in between (about 3 min.) until uniform in consistency . Add sour cream, vanilla and salt and process for another 2 minutes until incorporated and creamy. Add one egg at a time processing until glossy in between (about 60 sec. ). Scrape down the sides and the bottom and process again. Pour over the crust, making sure the top is even and gently hit the pan against the table to let out any air bubbles.
Bake for 40 min. Until the filling is set around the edges but still slightly wobbly when you give a gentle shake to the pan. Move the pan over the cooling rack and let cool for an hour to room temperature. Cover with foil and refrigerate for at least 3 hours or overnight. (I chilled mine overnight)
To cut, use a sharp chefs knife to cut into bars. Wash with hot water in between and dry completely before making each cut. Scoop a table spoon of cherry pie filling over each square. Keep refrigerated until ready to serve. Enjoy!