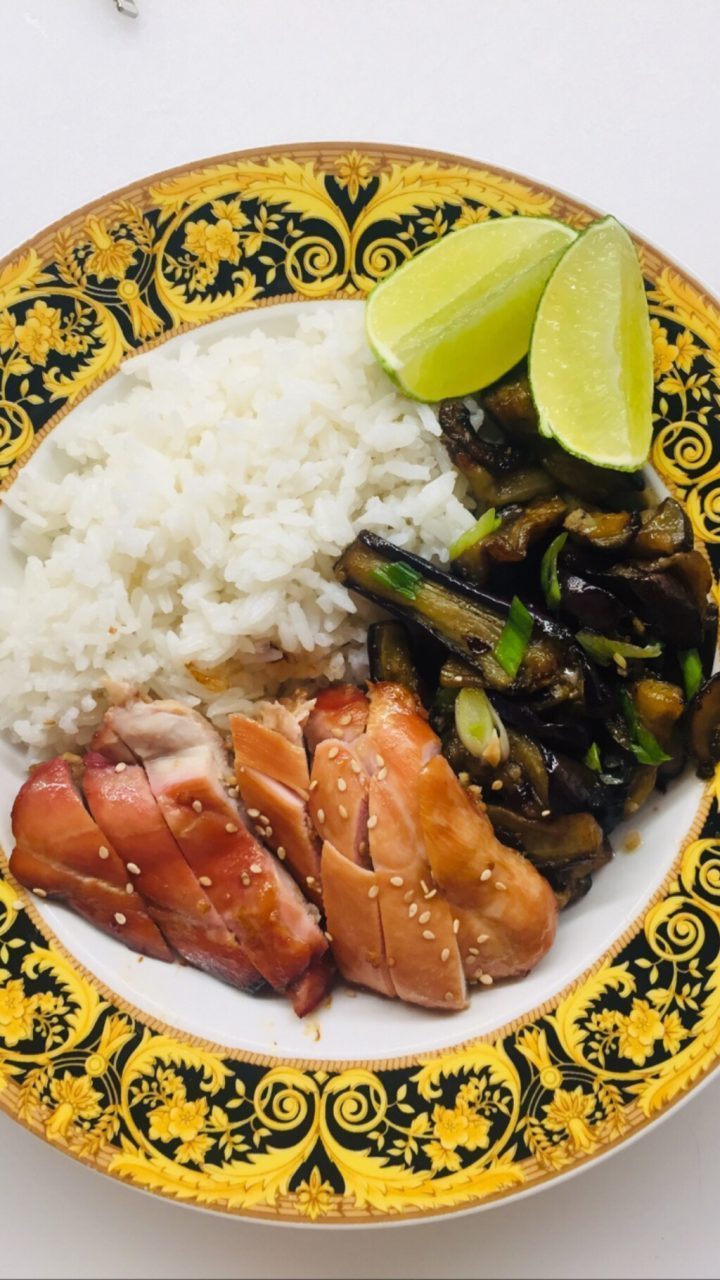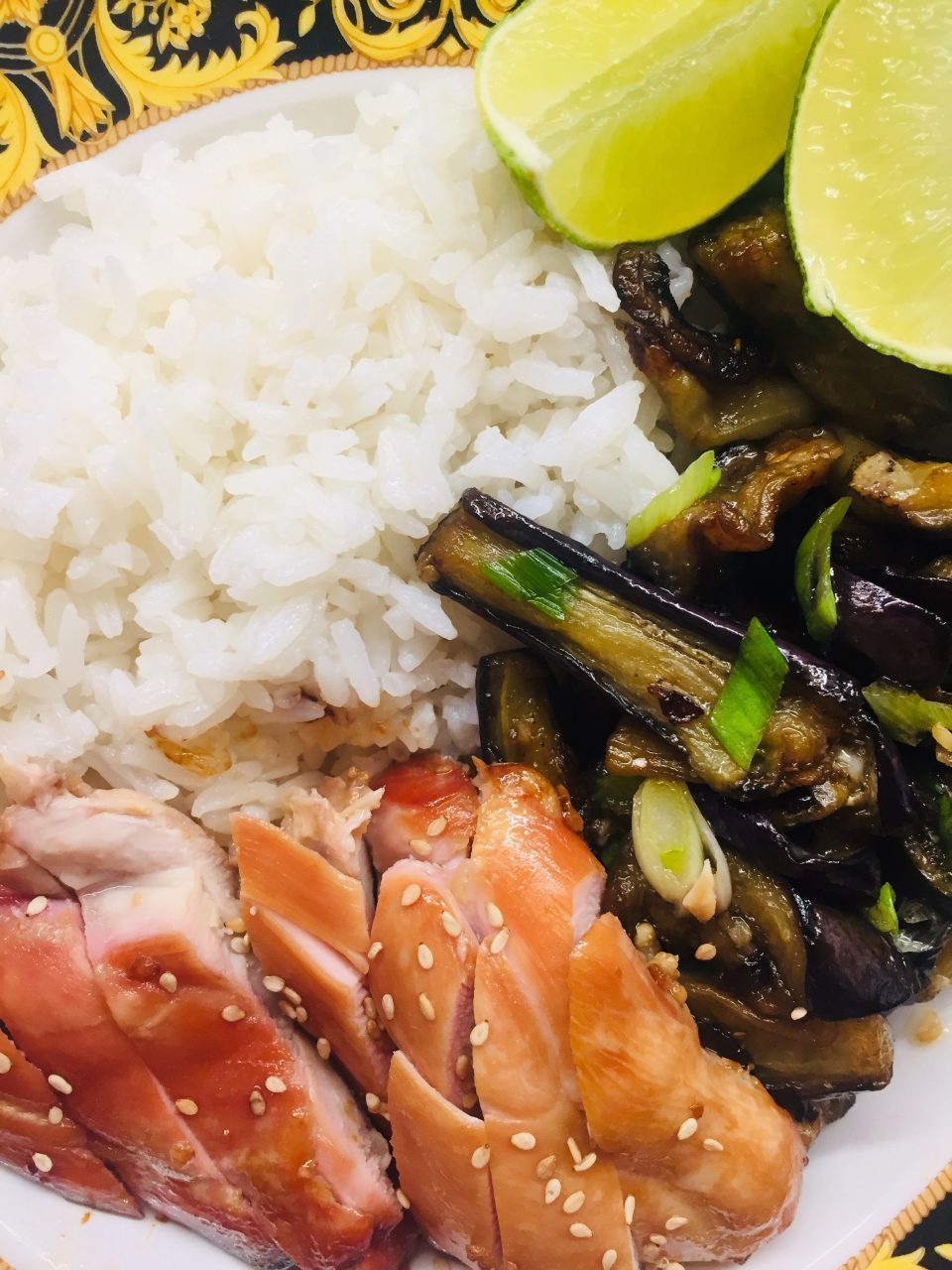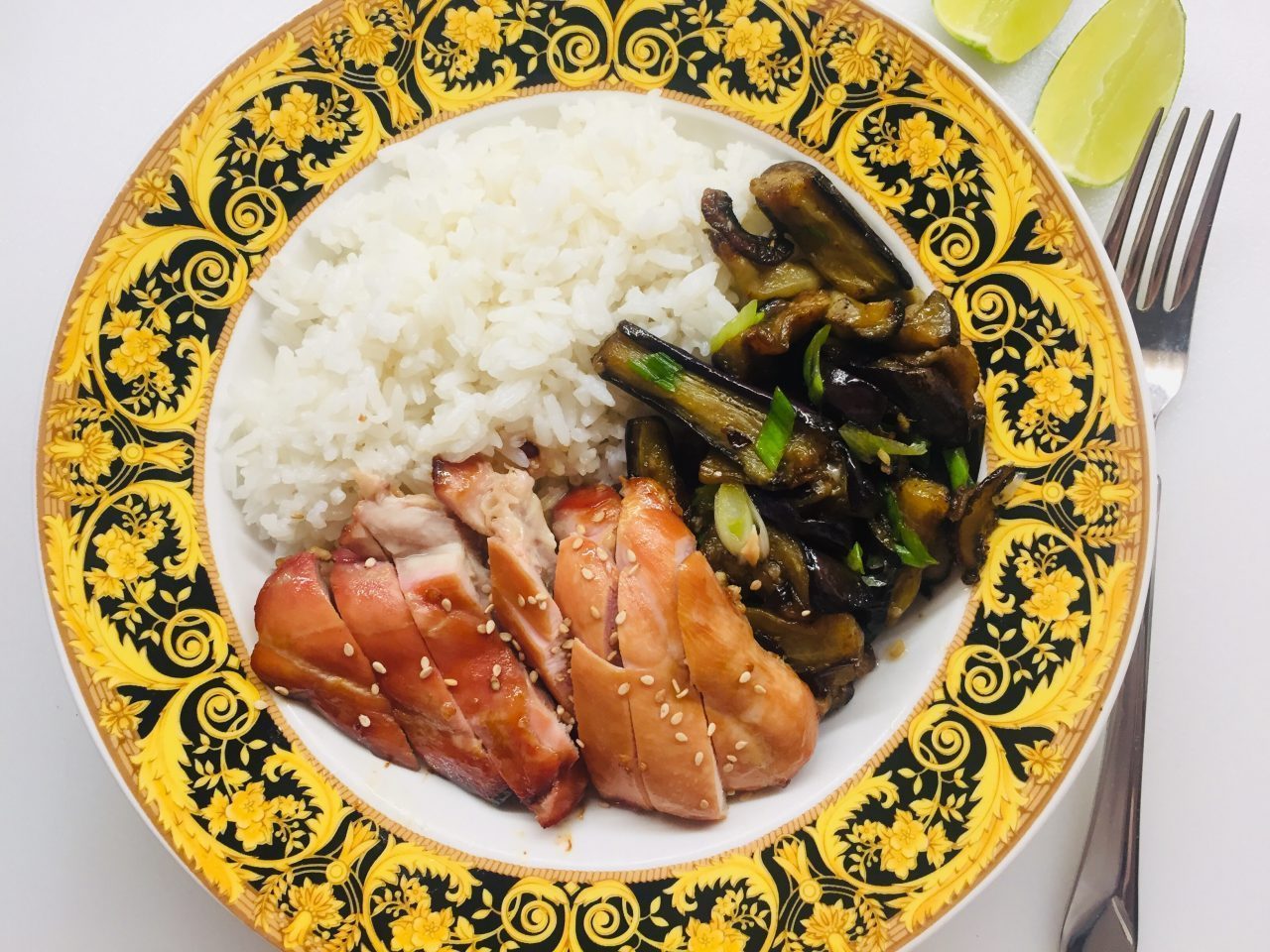 INGREDIENTS:
For the chicken:
1/2 cup low sodium soy sauce or coconut aminos
2 Tbs. sesame oil
1 Tbs. maple syrup or coconut sugar
2 tsp. peeled and grated fresh ginger or 1 tsp ginger paste
2 garlic cloves, minced
8 skinless, boneless chicken thighs
For the coconut rice:
2 cups jasmine rice
2 cups canned coconut milk
1-3/4 cups water
1/4 tsp salt
For the Eggplant:
2 Asian eggplant or 5 baby eggplant, cut into 3" strips
2 tsp ginger paste
2 garlic cloves, minced
1 tsp. maple syrup or coconut sugar
1 tsp. Asian fish sauce (optional)
pinch of red chili flakes
1 scallion, sliced (reserve some for garnish)
1 Tbsp Peanut or Avocado oil
Lime wedges for serving
DIRECTIONS:
To make the chicken, in a large bowl, whisk together the soy sauce, oil, maple syrup, ginger, and garlic. Add the chicken and stir to coat. Cover and refrigerate for 30 minutes.
While the chicken marinates, make the coconut rice. In a large saucepan over medium-high heat, combine the rice, coconut milk, water and salt and bring to a boil. Reduce the heat to low, cover and cook until the rice is tender and the liquid has been absorbed, 15 to 20 minutes. Remove from the heat and let stand, covered, for 5 minutes. Fluff the rice with a fork, cover and set aside.
Heat oven to 375°F. Remove the chicken from the marinade, discarding the marinade, and place on a baking sheet. Roast until the skin is caramelized, about 40 minutes. Transfer to a cutting board and let cool. Remove the meat from the bones and cut into strips. Set aside.
Heat oil in a wok or a deep pan. Add the eggplant to the pan and cook, stirring often, until most of the oil has been absorbed, about 3 minutes. Add the ginger and garlic, and cook, stirring often, until the eggplant is tender and the ginger and garlic are browned and crisp, about 4 minutes. Stir in the maple syrup, fish sauce, chili flakes and scallions until incorporated well.
*originally adapted from William and Sonoma Blog.