---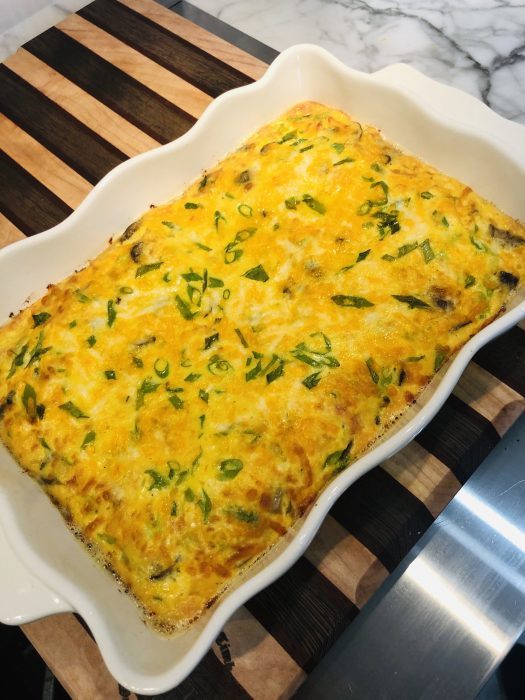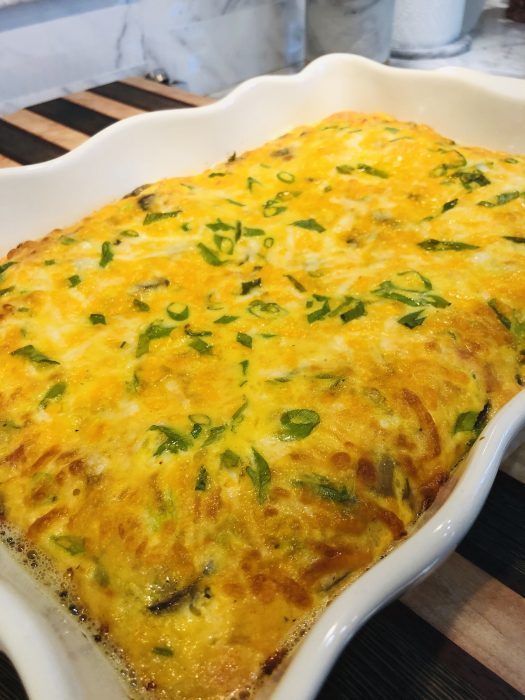 Serves: 12 people
INGREDIENTS:
1 Large Sweet Onion, Chopped
1 Medium Green Bell Pepper, Chopped
1/4 of Red, Yellow and Orange Bell Pepper, Chopped
8-10 oz. of Baby Bella or Cremini Mushrooms, sliced
4 Large Scallions, sliced on an angle, divided
12 Large Eggs
1 Cup Half & Half
1/2 cup +2 Tbsp Shredded Sharp Cheddar
1/2 cup+2 Tbsp Shredded Mozzarella
3/4 tsp sea salt, divided
1/2 tsp Black Pepper
2 Tbsp unsalted Butter or Ghee
2 Tbsp Avocado Oil
12" Cast Iron or Nonstick Pan
13×9 Casserole Dish, greased with cooking spray
DIRECTIONS:
Heat oven to 375°F.
Heat pan very well. Add butter, oil, onions and 1/4 tsp salt. Sauté until soft, about 4 min. Add peppers and continue to sauté for another 3 min. Add mushrooms and another 1/4 tsp of salt and 1/4 tsp pepper. Sauté for 3-4 min until tender. Turn off heat and let cool.
In a large mixing bowl, beat eggs very well. Whisk in half & half, cheese, half of the chopped scallions and the rest of the salt and pepper. Add a third of the sautéed veggies at a time until all incorporated. Pour into casserole dish and bake for 20 min until almost set but still raw in the center. Sprinkle the rest of your 4 Tbsp of cheese and scallions. Bake an additional 10-15 min until cheese melts and eggs are set in the center.
Let cool for 5 minutes. Cut into 12 servings. Enjoy.