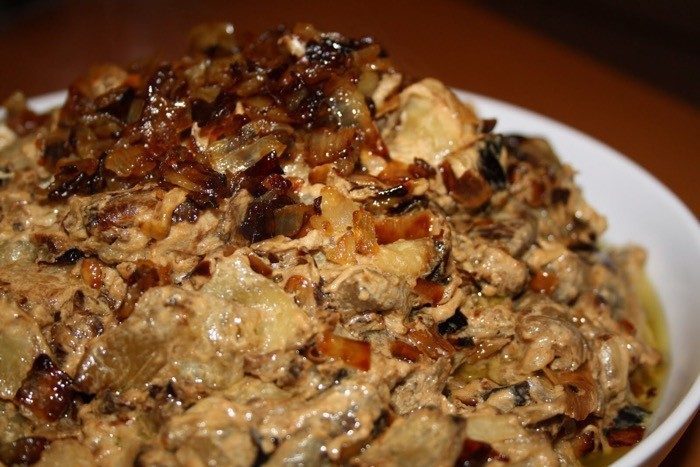 *photo was taken by Sabrina.
INGREDIENTS:
2 Large Eggplant, peeled and sliced 1/2″ thick
Olive oil cooking spray
Sea salt and pepper
1-1/2 Tbsp double concentrated tomato paste
1/4 Cup warm water
1/2 tsp ground turmeric
5 cloves garlic, minced
1 sweet onion, thinly sliced
2 Tbsp Olive Oil (not extra virgin)
1/2 tsp smoked paprika
2 Tbsp Greek Yogurt
1 Tbsp Sour cream (can use Tofutti's Sour Supreme to make non dairy)
DIRECTIONS:
Heat oven to 400F. Line baking sheet with parchment paper. Season both sides of Eggplant slices with salt and pepper. Liberally spray with oil on both sides and roast for 10-15 on one side. Flip and roast an additional 5-10 min.
In the meantime, using a large skillet (12″). Sauté onions and garlic with turmeric and salt to taste until translucent (about 20 min on medium low heat. Set half of the onions mixture aside for garnish.
Chop the eggplant and add it to the onions in the pan. Mix the water with the tomato past and add it to the eggplant. Add the smoked paprika and sauté for an additional 15 min on med low heat.
Turn off heat and stir in the yogurt and sour cream. Serve in a bowl garnished with the reserved caramelized onions along with warm, fluffy pita. Enjoy.