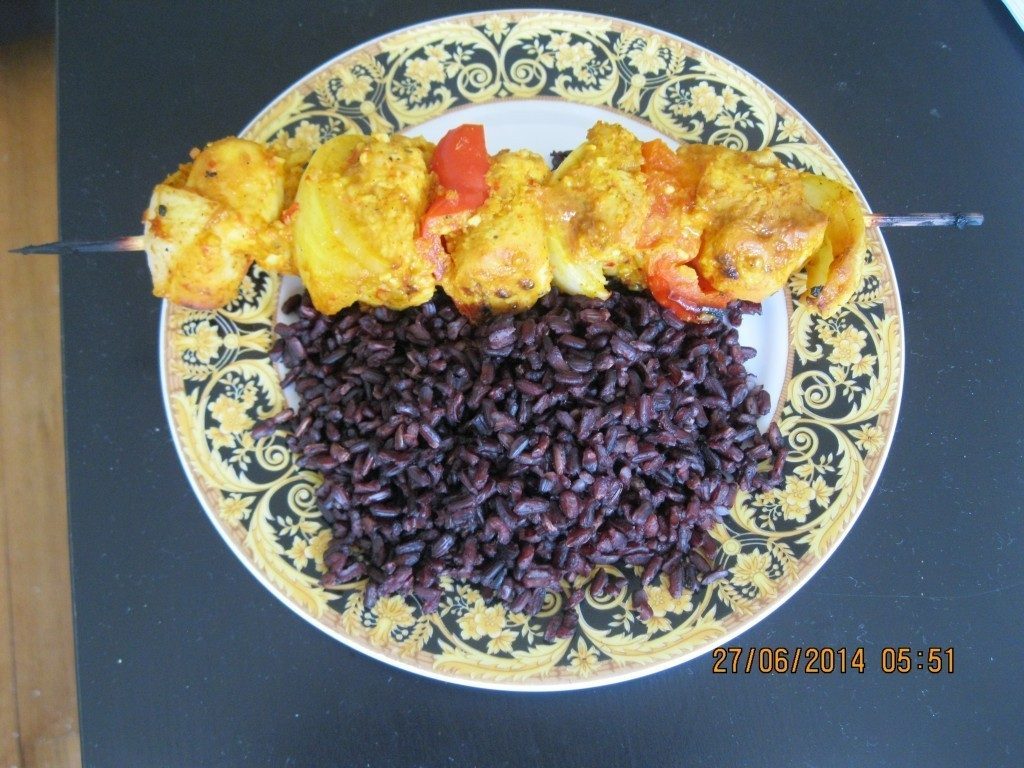 INGREDIENTS:
Bamboo Skewers soaked in water for 30 min
4 Skinless Boneless Chicken Breast or thighs
1/2 cup Thai Sweet Chili Sauce
2 Tbsp Finely Grated Fresh Ginger
Zest & Juice of a Whole Lime
1 tsp Paprika
1 tsp Ground Turmeric
1 tsp Mrs. Dash Chicken Spice
1 Tbsp Mayonnaise
1 Red Bell Pepper cut into 1″ squares
1 Sweet Onion cut into 1″ pieces
DIRECTIONS:
Cut each chicken breast into 6 pieces (should about 1-1/2″ each) set aside into a bowl. Meanwhile make the sweet chili marinade. Combine all the ingredients from Thai Sweet Chili sauce to the mayo. Whisk until smooth. Pour 3/4 of the marinade onto the chicken so each piece is coated.
Refrigerate for 15-30 min. Then assemble the skewers first goes the onion then pepper then a piece of chicken. Repeat. Place on a baking sheet lined with foil greased lightly with cooking spray. Broil on high for 7 min then baste the skewers with the rest of the marinade, turn over, baste again and broil for an additional 3-4 min.
Turn off the broiler and put them into the hot oven for about 7 min. ( this is assuming that your broiler and oven is in one appliance). Then cover the skewers with foil and let them steam for 5 min on top of the stove grills without the heat on. Enjoy! These skewers will go well with any side dish. I served them with steamed black mahogany rice.