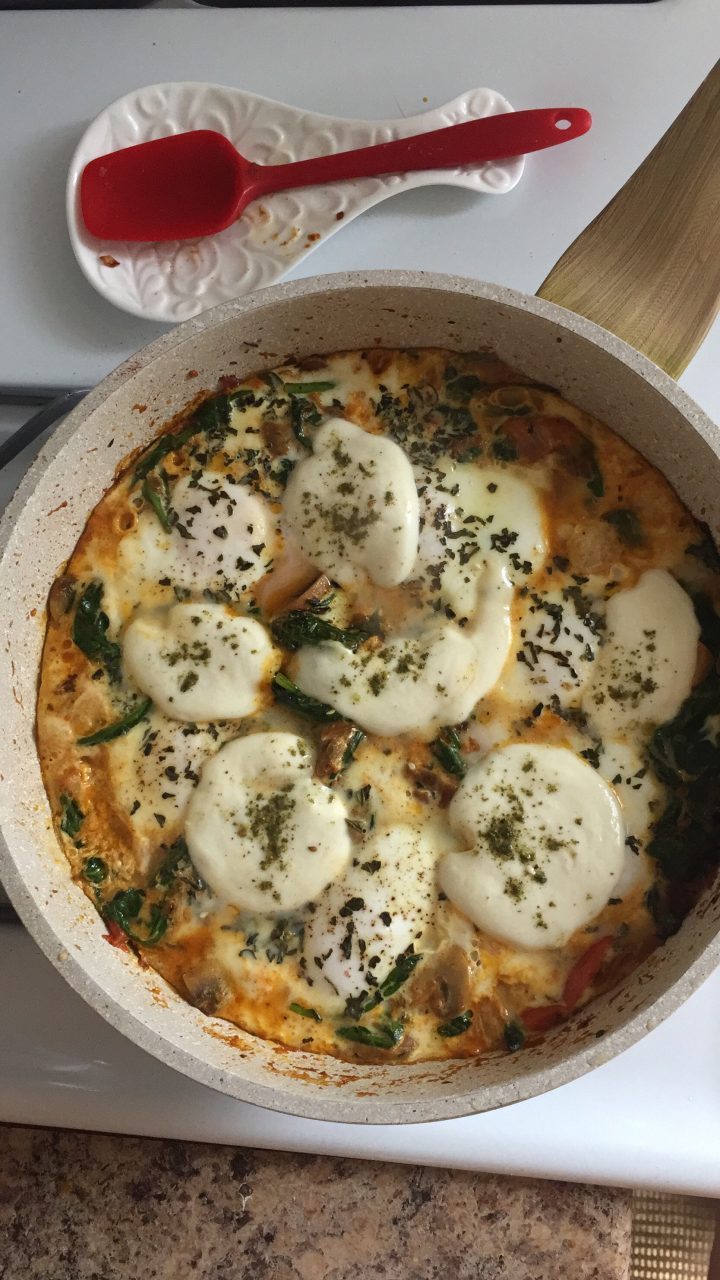 INGREDIENTS:
1 Tbsp Ghee
1 Tbsp EVOO
Half a red onion, chopped
1 cup mushrooms, quartered and sliced
2 cloves garlic, minced
1 large tomato, chopped
2 tsp tomato paste
1/4 cup water
1/4 tsp ground cumin
1/4 tsp smoked paprika
1/4 tsp ground turmeric
Salt and pepper to taste
1/2 tsp dried basil
1/4 tsp Trader Joe's Mushroom Umami seasoning
2 cups baby spinach
3-6 eggs
1/4 cup egg whites
Fresh sliced mozzarella cheese
1/2 tsp zahtar seasoning
DIRECTIONS:
Heat both 1 Tbsp of ghee and 1 Tbsp of EVOO. Sauté Half a red onion, until soft, add mushrooms & sauté until soft. Add garlic, sauté for 60 seconds. Add tomato, tomato paste, water, spices, dried basil, sautéed all that for about 2 min. Add baby spinach until wilts. Make wells, spray cooking spray and crack your eggs and add egg whites to the whole thing. Cook on medium high with the lid on til whites are almost set. Add fresh mozzarella and sprinkle with zahtar. Close lid for about min and half. Turn off the flame and let sit like that for an extra couple of min. Then serve.