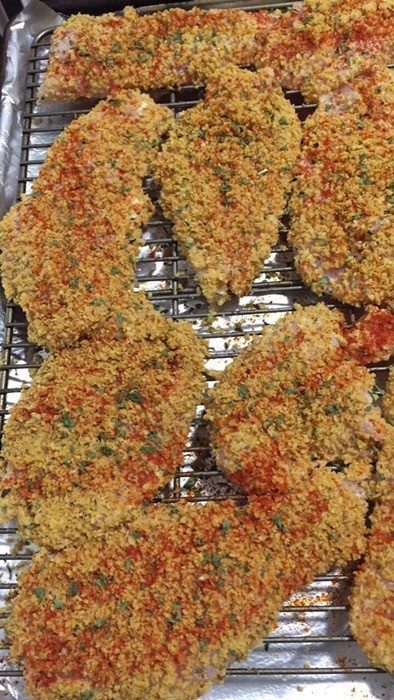 This is probably the best oven fried chicken recipe I have ever encountered! Juicy and tender on the inside, crispy and nutty on the outside making every bite delectably delicious! I got this recipe from key ingredient. With a few tweaks I made it my own! Enjoy!
INGREDIENTS:
1/4 Cup Trader Joe's Cultured Cashew Milk
2 Tbsp Dijon mustard
4 (6 oz) Chicken Cutlets
1/3 Cup Panko
1/3 Cup finely chopped walnuts
3/4 tsp finely minced rosemary
1/4 tsp salt
1/4 tsp finely ground black pepper
Cooking spray
DIRECTIONS:
1. Preheat oven to 425°F.
2. Combine cashew milk and  mustard in a shallow dish, stirring with a whisk. Add chicken to mixture, turning to coat. In the meantime.
3. Combine panko, nuts, and next 4 ingredients (through pepper) in a shallow dish. Remove chicken from milk mixture; discard milk mixture. Dredge chicken in panko mixture.
4. Arrange a wire rack on a large baking sheet; coat rack with cooking spray. Arrange chicken on rack; coat chicken with cooking spray. Bake at 425° for 13 minutes or until chicken is done. Garnish with rosemary leaves, if desired.
NUTRITION ANALYSIS:
4 Servings
Serving Size: 1 Chicken Cutlet
Calories per serving: 229.8
Total Fat: 8.6g
Sat Fat: 1.1g
PUFA: 4.7g
MUFA: 0.9g
Cholesterol: 90mg
Sodium: 291.1mg
Potassium: 59.8mg
Total Carbohydrates: 5.1g
Dietary Fiber: 1g
Sugar: 0.4g
Protein: 34.3g