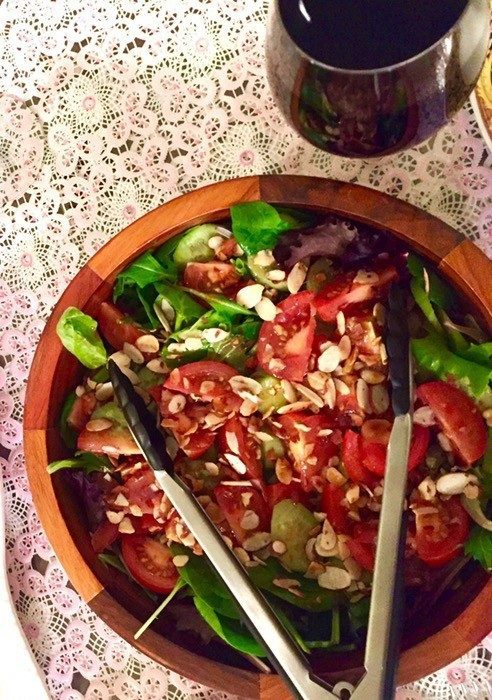 This is my all time favorite salad dressing recipe! I always make a big batch of it and store it in the fridge, which usually lasts me a week. I use about a Tablespoon or 2 at a time for a large salad.
Serves: 6
INGREDIENTS:
Dressing:
2 Tbsp Organic Balsamic Vinegar
1 Tbsp Apple Cider Vinegar
2 cloves Organic Garlic, minced
1 tsp Dijon Mustard
1 tsp Raw Unrefined Honey
1/4 tsp Finely ground black pepper
1/4 Extra Virgin Olive Oil
Salad:
3 Cups Organic Baby Lettuce and Baby Spinach
6 Campari tomatoes, quartered
2 Persian Cucumbers, sliced on a bias
1/4 Cup Organic Sliced Almonds (toast on a dry skillet for 2 minutes on high heat or until fragrant)
2 Tbsp Creamy Balsamic Dressing
DIRECTIONS:
Whisk all ingredients and store in the fridge in a tight container.
For the salad, layer the greens, then cucumbers and tomatoes. Finish off with sprinkling the almonds and drizzle with dressing. Fast, easy, delicious and absolutely nutritious!