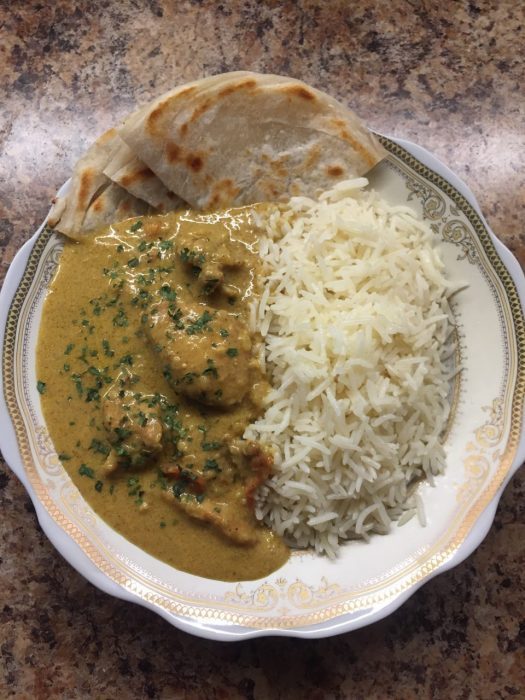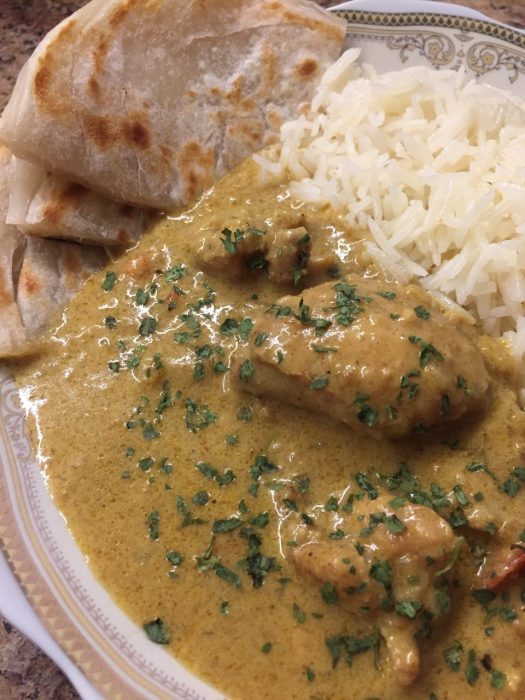 INGREDIENTS:
MARINADE:
7 Boneless, Skinless Chicken Thighs, cut into 2 " pieces
2 Tbsp Olive Oil
2 tsp Garam Masala * (recipe follows)
2 tsp Curry Powder
1/2 tsp salt
1/4 tsp finely ground pepper
SAUCE:
2 onions, peeled and cut into quarters
6 cloves garlic, minced
1 cup water
4 tsp Curry powder
1 tsp ground Turmeric
1 tsp Garam Masala
3/4 tsp salt
1/2 tsp black pepper
1/2 tsp ground coriander
1/2 tsp cinnamon
1/2 ground cumin
1/4 tsp ground cardamom
1/8 tsp ground nutmeg
3 Tbsp Olive Oil
3 Large Tomatoes, diced small
1 Tbsp Freshly Grated Ginger
1/4 Almond Flour
1/4 cup Raw Cashew Butter (I use unsalted)
1 cup unsweetened Coconut Milk, (I use Trader Joe's Organic. I stir the milk first and then measure out a cup)
1-1/2 cups Wayfare vegan sour cream
1 Tbsp Dark Brown Sugar, packed
GARAM MASALA RECIPE:
2 Tbsp ground coriander
1 Tbsp ground cumin
1/2 tsp black pepper
1 tsp ground cinnamon
1/2 tsp ground cloves
1/2 tsp ground cardamom
1/4 tsp ground nutmeg
DIRECTIONS:
In a small bowl, mix together the 2 Tbsp of oil and all the spices. Massage it in to the chicken. Cover and refrigerate it for at least 2 hours or 12 hours overnight. To make the sauce, purée the onions with minced and a cup of water in a blender, set aside. In a small bowl, mix together all the spices, from curry powder to nutmeg, set aside. In a large pot, heat oil. Add onion purée and sauté for 3 min on high heat. Add spice mixture and sauté for another 2 min until distributed evenly. Then add the tomatoes, ginger, almond flour, cashew butter, milk sour cream and sugar. Stir well. Bring to a boil and simmer on medium low for 15 min.
In a large pan, brown the thighs on medium heat. You don't have to cook it through because it will still have to continue cooking in the sauce. Transfer all the chicken into the sauce and simmer for another 15 min on low heat.
Serve with my Basmati Pilaf.
**Adapted originally from The Wanderlust Kitchen.