Turkey-Beef Kabobs with Garlic Mashed Potatoes
June 20th, 2013 | Posted by in
Lunch/Dinner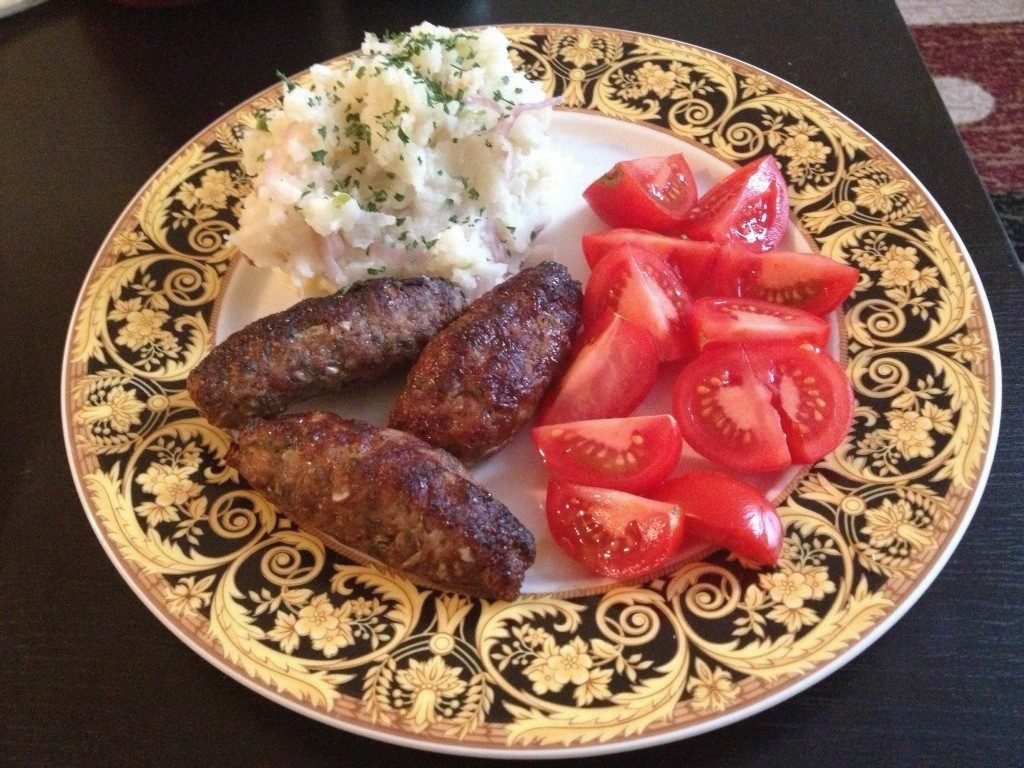 INGREDIENTS:
1/2 lb ground turkey breast
1 lb ground beef sirloin
1 sweet onion finely grated
1 bunch parsley minced
1/2 cup whole wheat bread crumbs
1/4 tsp salt
1/2 tsp finely ground pepper
Dash of ground cumin powder
DIRECTIONS:
Mix all ingredients. Form into lola. Line them up on a baking sheet that has been greased with cooking spray. Broil on high for 5-8 min. Serve with garlic mashed potatoes! Recipe Follows
INGREDIENTS:
6 Idaho Potatoes, Peeled and cut into 1-1/2″ chunks
1/2 Red Onion, thinly sliced
2 Cloves Garlic, minced
2 Scallions, chopped
Pepper
1/4 tsp Salt
1 Tbsp avocado oil
Chopped Parsley for garnish
DIRECTIONS:
Boil potatoes for 20 min. Reserve 1/2 cup starch water and drain the potatoes. Mash, and add the starch water until desired consistency is reached. Sauté red onion in oil until almost transparent. Add 1/4 tsp salt and stir. Add 2 minced garlic cloves and stir for 1 min. Add 2 chopped scallions and sauté for an additional 3 min until the scallions wilt a bit. Season with pepper and pour over the mashed potatoes and stir to combine. Serve with parsley garnish.
Turkey-Beef Kabobs with Garlic Mashed Potatoes

,
You can follow any responses to this entry through the RSS 2.0 You can leave a response, or trackback.