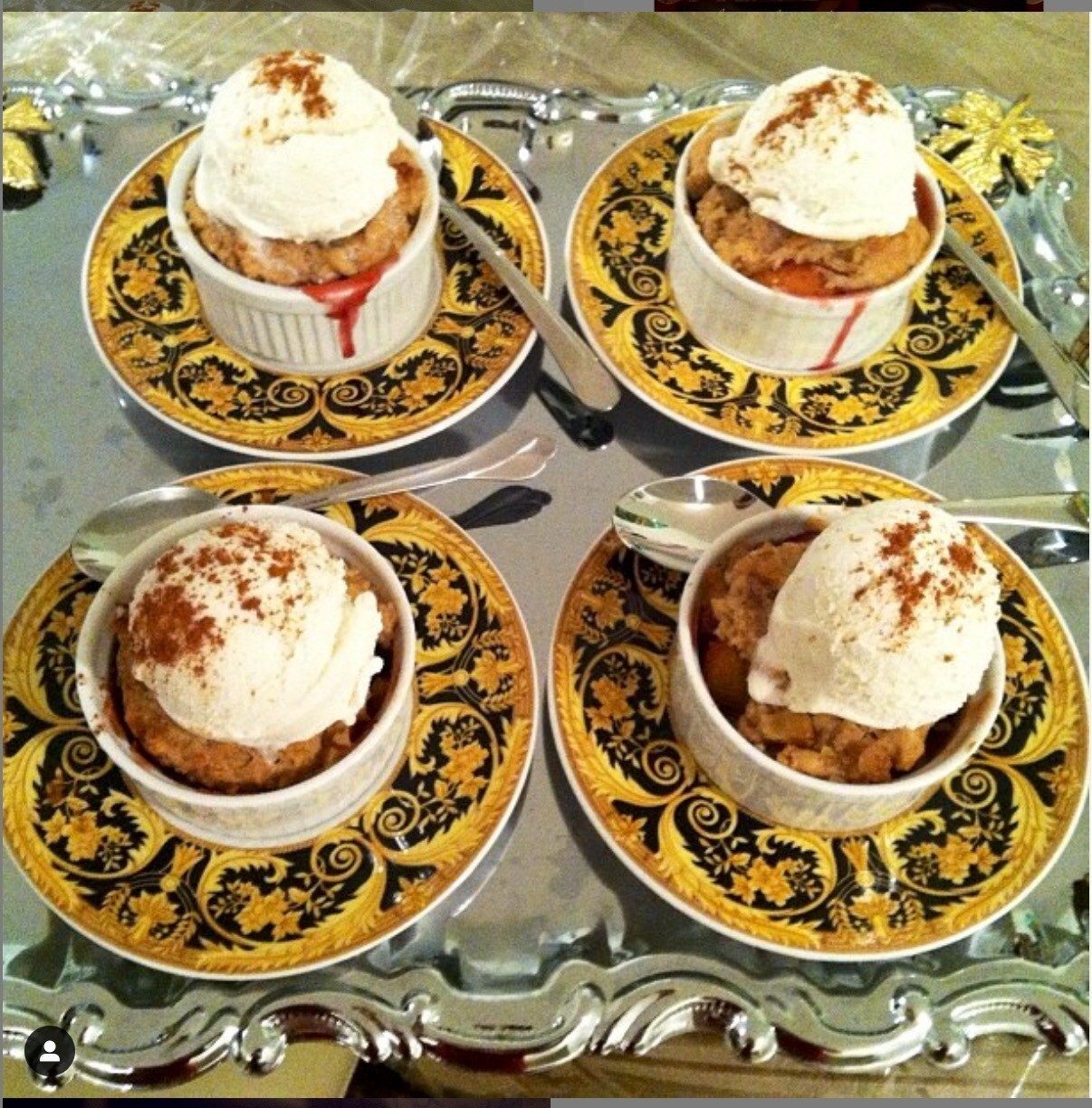 Who doesn't like warm, gooey, comforting peach cobbler with a creamy scoop of vanilla ice cream on a cold winter day without feeling guilty about it later!? I can assure you that my healthier version delivers the same texture as well as taste without packing on the whopping calories like the traditional version.
I tweaked the original recipe that was found on allrecipes.com. Happy Baking!
INGREDIENTS:
1/4 cup coconut sugar
1 tablespoon organic cornstarch or arrowroot powder
1/4 teaspoon ground cinnamon
4 cups fresh peaches – peeled, pitted and sliced (you may use frozen as well)
1 teaspoon lemon juice
1/2 cup unbleached all-purpose flour
1/2 cup whole wheat pastry flour or white whole wheat
1/2 tablespoon evaporated cane sugar
1- 1/2 teaspoons baking powder
1/4 teaspoon salt
2 tablespoons cold unsalted butter or vegan butter/shortening
1 Tbsp avocado Oil
1/2 cup Unsweetened Original Ripple Milk or any milk on hand
1 Tbps chopped walnuts (optional)
6 Ramekins
6 scoops vanilla ice cream 
DIRECTIONS:
Preheat oven to 400 degrees F (200 degrees C).
To Make Peach Filling: In a large saucepan combine 1/4 cup sugar, cornstarch, and cinnamon. Stir in peaches and lemon juice, tossing until peaches are evenly coated.
Cook filling over medium heat, stirring constantly until mixture thickens and boils. Boil 1 minute. Pour mixture into each ramekin. Keep mixture hot in oven while you make topping.
To Make Topping: In a medium bowl combine flour, 1/2 tablespoon sugar, baking powder, and salt. Mix thoroughly, then cut in butter with pastry cutter until mixture looks like fine crumbs add oil combine with a fork until texture is like coarse sand. Add milk and stir until mixture is evenly moistened.
Remove peach filling from oven and drop dough onto peaches in 6 equal-size spoonfuls. Press walnuts onto dough
Return cobbler to oven and bake 25 to 30 minutes or until topping is golden brown. Cool for 10 Min then top them off with the ice cream and DIG IN!!!