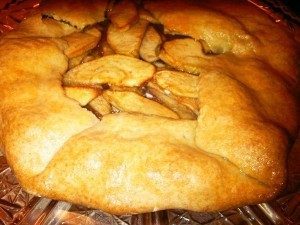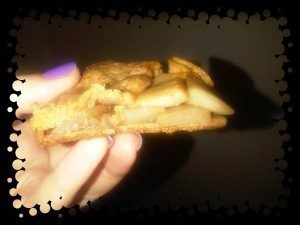 This is another amazing recipe I got from Ellie Krieger. I made it twice using pears the first time and apples the 2nd. Both came out extremely delightful! The tart is so pretty and doesn't require much effort or time compared to other tart recipes. This didn't even last one day in my house when I made it.
Ingredients:
Crust:
1/2 cup white whole flour or regular whole wheat flour
1/2 cup unbleached all-purpose flour
2 teaspoons cane or coconut sugar
1/8 teaspoon salt
4 tablespoons cold, vegan shortening
2 tablespoons Trader Joe's Cultured Cashew Beverage or Buttermilk
3 tablespoons ice water
Filling:
3 medium pears
1 tablespoon lemon juice
1 tablespoon plus 1 teaspoon cornstarch or arrowroot powder
3 tablespoons light brown sugar
1/8 teaspoon ground cinnamon
Glaze:
1 teaspoon honey or maple syrup
1/4 teaspoon boiling water
Directions:
To prepare the crust, in a medium bowl whisk together the whole-wheat pastry flour, all- purpose flour, sugar and salt. Add the shortening and using two knives or a pastry cutter, cut it into the flour mixture until you get a pebbly, course texture. In a small bowl combine the buttermilk and ice water. Using a fork, gradually mix the buttermilk mixture into the flour mixture. Pat the dough into a 4-inch round and wrap in plastic wrap. Refrigerate for 30 minutes.
In the meantime, preheat the oven to 425 degrees F, and prepare the filling. Peel the pears, core them and cut into 1/4-inch slices. In a large bowl toss the pear slices with the lemon juice. Sprinkle in the cornstarch, brown sugar and cinnamon and toss until the pears are evenly coated. Set aside.
On a lightly floured surface, roll the chilled dough into a large circle about nine inches in diameter. Line a baking sheet with parchment paper, and draping the dough over the rolling pin, transfer to the prepared baking sheet. If the dough breaks at all patch it up with your fingers.
Arrange the pears in a mound in the center of the dough, leaving a 2-inch boarder. Fold the border over the filling. It will only cover the pears partially and does not need to be even.
Bake the tart for 15 minutes, and then reduce the oven temperature to 350 degrees F, keeping the tart in the oven all the while, and bake for another 40 minutes, until the pears are tender and the crust is golden brown.
In a small bowl stir together the honey and boiling water to make a glaze. When the tart is done remove it from the oven and brush the honey glaze all over the top of the fruit and crust. Transfer to a plate to cool slightly. Cut into 6 wedges and serve warm or a room temperature.
  8 Servings

Amount Per Serving


  Calories

168.1

  Total Fat

6.4

 g

  Saturated Fat

3.6

 g

  Polyunsaturated Fat

0.2

 g

  Monounsaturated Fat

1.7

 g

  Cholesterol

15.7

 mg

  Sodium

43.7

 mg

  Potassium

37.1

 mg

  Total Carbohydrate

30.0

 g

  Dietary Fiber

2.7

 g

  Sugars

15.3

 g

  Protein

2.0

 g