Spinach Manicotti
August 14th, 2012 | Posted by in
Italian Cuisine
|
Lunch/Dinner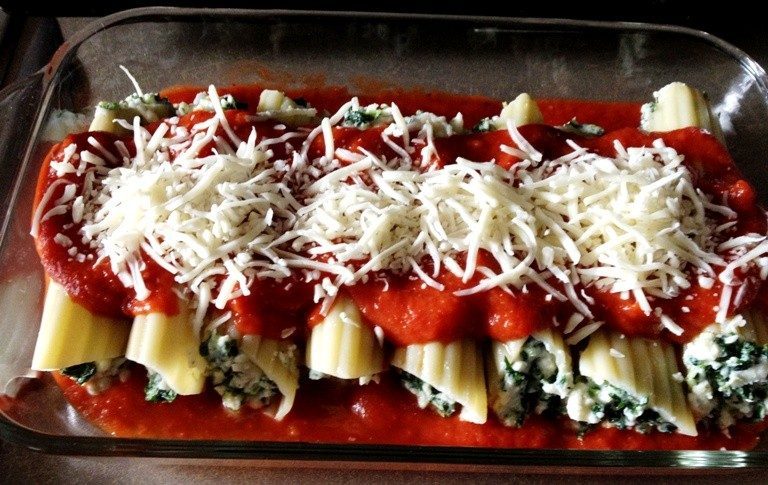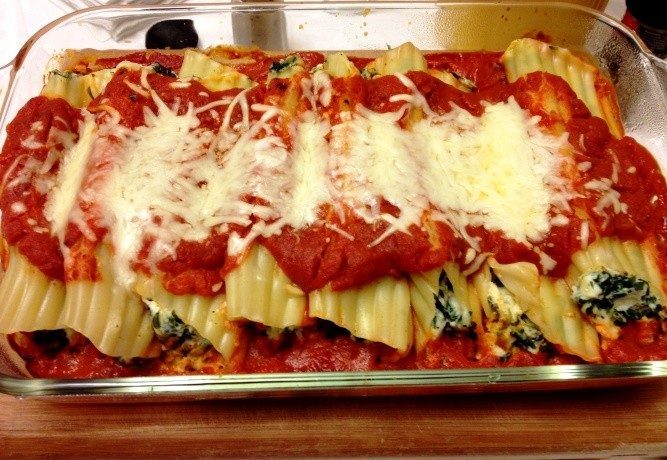 INGREDIENTS:
1 box (8 oz) uncooked manicotti shells (14 shells)
1-½ cups shredded mozzarella cheese
¼ teaspoon crushed red pepper flakes
15 oz. ricotta cheese  
1 box (10 oz) frozen cut spinach, thawed, drained, squeezed dry
2 cloves garlic, finely chopped
1 egg, slightly beaten
 1 Jar Miur Glen Organic Italian Herb Pasta Sauce
---
---
DIRECTIONS:
---
Heat oven to 375°F. Cook manicotti as directed on box. Rinse with cool water; drain well. In medium bowl, stir together 1 cup of the  cheese, the pepper flakes, ricotta cheese, spinach, garlic and egg.
In bottom of ungreased 13×9-inch baking dish, spread 1 cup of the pasta sauce. Spoon ricotta mixture into manicotti; place over sauce in dish. Pour remaining sauce over manicotti. Cover tightly with foil.
Bake about 30 minutes or until sauce is bubbling. Uncover dish; sprinkle with remaining 1/2 cup Italian cheese blend. Bake uncovered 5 minutes longer or until cheese is melted.
Nutritional Information
1 Serving: Calories 300 (Calories from Fat 50)
Total Fat 7g (Saturated Fat 3g, Trans Fat 0g)
Cholesterol 50mg
Sodium 410mg
Total Carbohydrate 43g (Dietary Fiber 4g, Sugars 8g)
Protein 19g
Vitamin A 70%; Vitamin C 6%; Calcium 35%; Iron 15%
Exchanges: 1 1/2 Starch
Spinach Manicotti

,
You can follow any responses to this entry through the RSS 2.0 You can leave a response, or trackback.