Poached Salmon in Red Thai Coconut Cashew Sauce
September 22nd, 2019 | Posted by in
Asian Cuisine
|
Lunch/Dinner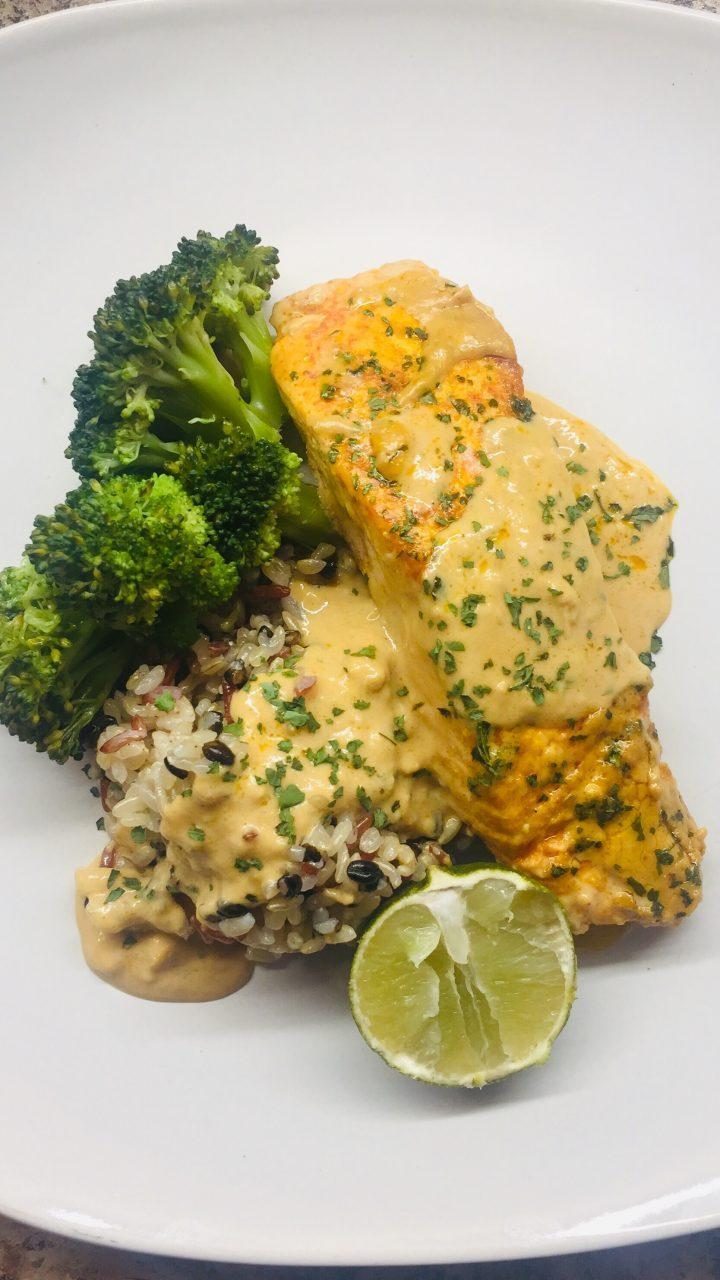 INGREDIENTS:
1 cup Coconut Milk (I use Trader Joe's Organic in a can)
2/3 cup of cashew butter (I used Justin's) or 1 cup Raw Cashews
Juice from 1 Lime
2 tsp Red Thai Curry Paste (I used Thai Kitchen)
1/2 tsp salt (I use sea salt by Trader Joe's)
2 cloves garlic, minced
1 Tbsp Coconut Aminos it Low Sodium Soy Sauce
1 cup Coconut water
8 (6oz.) Salmon Fillet patted dry with paper towel on both side
Salt
Pepper
Smoked paprika
Ground turmeric
2 Tbsp Avocado Oil
DIRECTIONS:
To make the sauce, place all ingredients up until the salmon into a high speed blender. I use the Ninja Professional with Auto IQ. Blend until smooth. Set aside.
In the meantime, heat your oil in a large 12″ pan. Sprinkle your fish with salt, pepper, turmeric and smoked paprika and sear the fish top side down on high for 2 min to get a nice sear. Flip the fish over, lower the heat on low and pour the coconut sauce over the fish. Cover and poach the fish for 10 min on low. Sprinkle some fresh or dried cilantro on top. Serve with rice or orzo and some steamed broccoli.
Poached Salmon in Red Thai Coconut Cashew Sauce

,
You can follow any responses to this entry through the RSS 2.0 You can leave a response, or trackback.