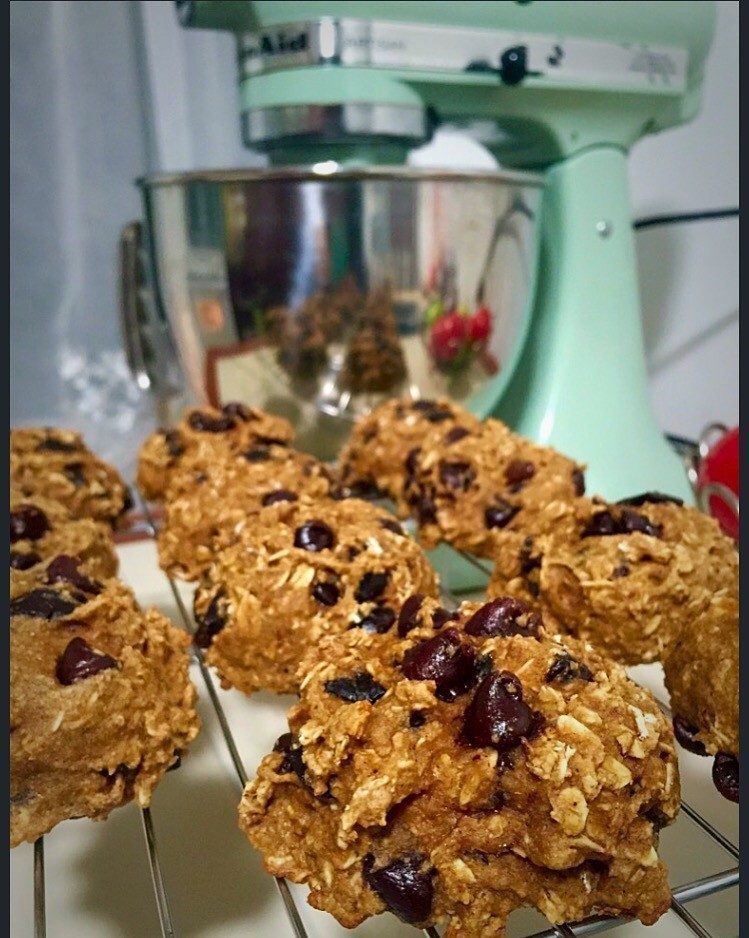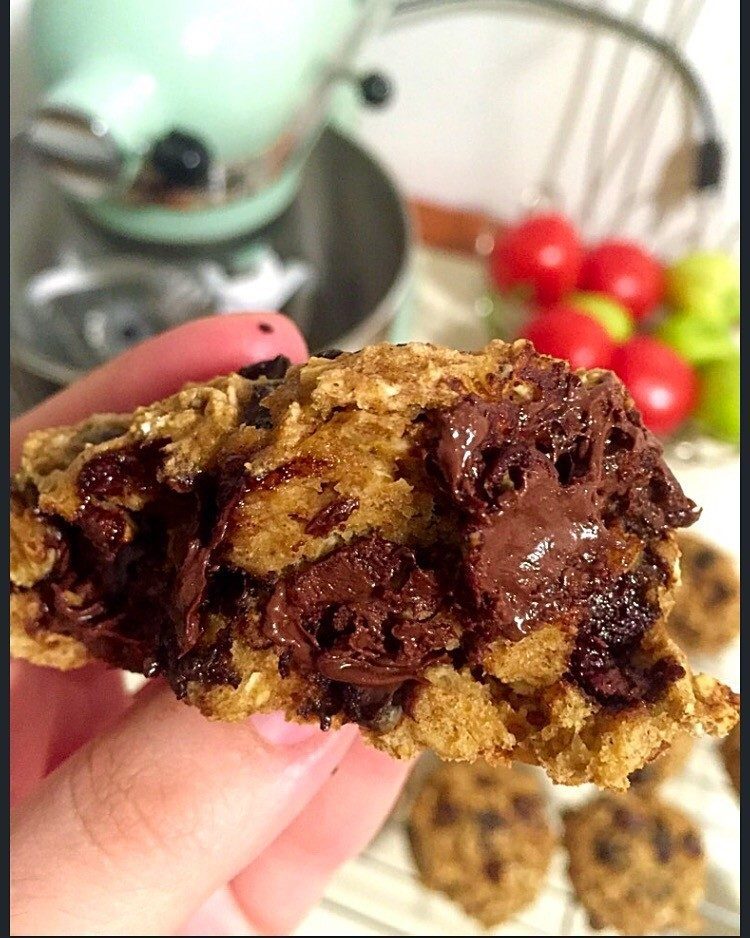 Good Morning and Happy Friday! Last night I had 3 over ripened organic bananas on the counter and decided to make a chocolate chip cookie that tasted like banana bread. However, I know most chocolate chip cookies require obscene amount of butter or oil. I experimented by adding more banana and omitting the fat altogether. The Result? Delicious, soft, chewy, gooey cookies! I'm absolutely in love with this recipe and cannot believe they came out so good without all the fat added!
INGREDIENTS:
2-1/2 organic mashed bananas
1/2 cup dark brown sugar
2 Tbsp granulated sugar
2 tsp organic vanilla extract
1 large egg
1-1/2 cup organic oats (make sure it's not the instant or quick cook because it will act like flour and will not be suitable for this recipe)
1-1/4 cup white whole wheat flour (you may use regular whole wheat flour if you like. The cookies will be more dense and coarse in texture)
1/2-1 tsp ground cinnamon
1/2 tsp baking soda
1-1/4 cup dark chocolate chunks or semi sweet chocolate chips (I used a little bit of both)
1/4 tsp of sea salt
DIRECTIONS:
1. To the bowl of a stand mixer fitted with the paddle attachment (or large mixing bowl and electric mixer) combine the bananas,sugars, vanilla, egg and beat on medium-high speed until well combined, about 2 minutes. The mixture won't be smooth, fluffy, or 'creamed' like traditional cookie dough and will have small chunks of bananas present and it's on the runnier side.
2. Stop, scrape down the sides of the bowl, and add the oats, flour, cinnamon, baking soda, salt, and beat on low speed until just combined, about 1 minute.
3. Stop, scrape down the sides of the bowl, and add the chocolate chips, and beat on low speed until just combined, about 30 seconds. Chill for at least 2 hours in the fridge covered with plastic wrap it up to 5 days. This is a wetter, looser dough and isn't suitable for baking until it's been chilled. Do not bake with unchilled dough because cookies will bake thinner, flatter, and be more prone to spreading.
4. Using a large cookie scoop, 1/4-cup measure, or your hands, form approximately 14 equal-sized mounds of dough. Tip – Strategically place a few chocolate chips on top of each mound of dough by taking chips from the underside and adding them on top.
5. Preheat oven to 350F, line a baking sheet with a Silpat or parchment paper. Place cookies on baking sheet, spaced at least 2 inches apart and bake for about 10 minutes for very soft cookies, longer for more well-done cookies, or until edges have set and tops are just set, even if slightly undercooked, pale, and glossy in the center; don't overbake. Cookies firm up as they cool. Baking times could range widely due to the moisture content variances in bananas, climate and oven variances; bake until your cookies are done. Allow cookies to cool on baking sheet for about 10 minutes before serving. Happy Baking!
***Cookies will keep airtight at room temperature for up to 1 week or in the freezer for up to 6 months. Alternatively, unbaked cookie dough can be stored in an airtight container in the refrigerator for up to 5 days, or in the freezer for up to 4 months, so consider baking only as many cookies as desired and save the remaining dough to be baked in the future when desired.
Recipe was adapted from Averie Cooks.
Oatmeal Banana Chocolate Chip Cookies

,
You can follow any responses to this entry through the RSS 2.0 You can leave a response, or trackback.