Creamy Cauliflower Mushroom Soup
October 2nd, 2019 | Posted by in
Soup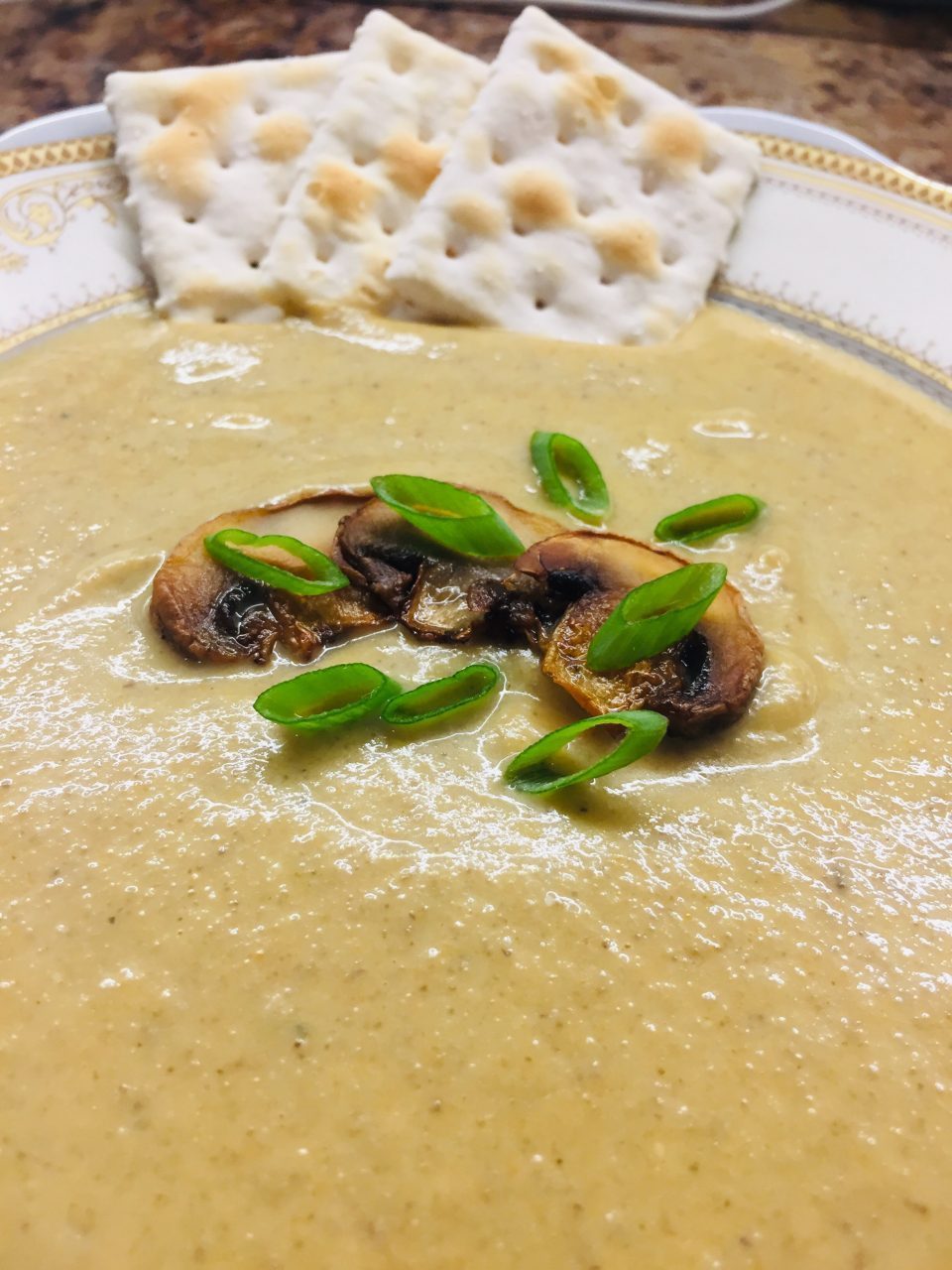 INGREDIENTS:
2 Tbsp Avocado Oil
1 Medium Sweet Onion, Chopped
2 Carrots, peeled and sliced
2 Celery Stalks, sliced
2 Cloves Garlic, minced
10 oz. Cremini Mushrooms, sliced
2 Bay Leaves
2 tsp Trader Joe's Herbs de Provence
1/2 tsp ground turmeric
1-1/2 tsp Trader Joe's Mushroom & Company Umami Seasoning
salt to taste
1/2 tsp Black Pepper
1 Small Head of Cauliflower, cut into florets
4 Cups Low Sodium Vegetable Stock
1 Cup Ripple Original Half & Half
2 Tbsp Trader Joe's Nutritional Yeast
Immersion hand blender or high speed blender
DIRECTIONS:
Heat oil in a dutch oven or a large soup pot over medium heat. Saute onions, carrots and celery, season with salt, pepper and cook until soft about 5-7 minutes. Stirring occasionally. Add in mushrooms, garlic, bay leaves, and spices. Stir to combine and saute for about 3-5 min. until the mushrooms are soft and juicy. Add cauliflower, stir. Then increase heat to high and pour your stock. Bring to a boil, cover with lid and reduce heat to low and simmer for 30 minutes. Turn off heat, remove bay leaves and sir in half & half and yeast. Now use the immersion hand blender to blend the soup or wait until the soup cools down to transfer to a high speed blender and puree the soup. Serve with crusty sourdough baguette. Enjoy! Don't forget to tag me in your posts when you make this velvety, smooth and delicious soup. Looking forward to your feedback. Thank you Everyone!
Creamy Cauliflower Mushroom Soup

,
You can follow any responses to this entry through the RSS 2.0 You can leave a response, or trackback.