Coconut Curry Chicken
April 15th, 2017 | Posted by in
Indian Cuisine
|
Lunch/Dinner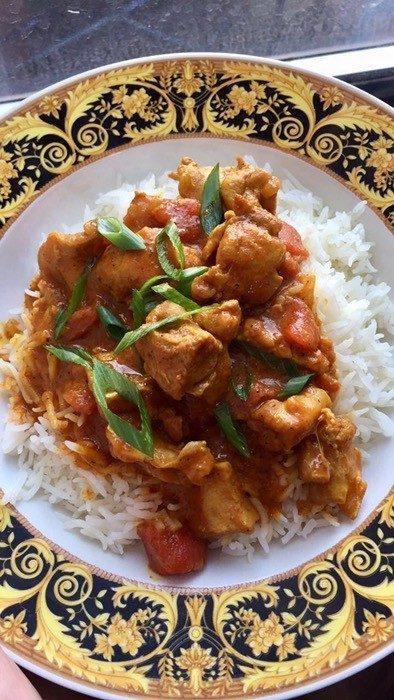 INGREDIENTS:
4-8 Boneless, Skinless Chicken Thighs (this can be made with 2lbs Boneless, Skinless Chicken Breasts as well)
Salt and pepper to taste
1- 1/2 Tbsp Avocado Oil
2 Tbsp curry powder
1 sweet onion, thinly sliced
2 cloves garlic, minced
1 can reduced Fat (14 ounce) coconut milk
1 can No Salt Added (14.5 ounce) diced tomatoes
1 can No Salt Added (8 ounce) tomato sauce
2 Tbsp sugar (I used Maple Syrup)
DIRECTIONS:
Season the chicken chunks with salt and pepper.
Mix curry powder and oil. Heat a 6qt sauce pan over medium-high heat and add the curry oil mixture. Heat curry oil for 1 minute.
Add garlic and onions and cook for 1 minute.
Add chicken chunks and toss lightly to coat with the curry oil mixture.
Reduce heat to medium, and cook for 7 to 10 minutes, or until chicken is no longer pink in center and juices run clear.
Pour coconut milk, diced tomatoes, tomato sauce, and sugar into the pan, and stir to combine. Cover and simmer, stirring occasionally, approximately 30 to 40 minutes.
Serve immediately, over rice. Enjoy!
**Original recipe adapted from Salu Salo Recipes.
Coconut Curry Chicken

,
You can follow any responses to this entry through the RSS 2.0 You can leave a response, or trackback.