Banana Chocolate Chip Muffins
December 27th, 2017 | Posted by in
Breakfast/Brunch
|
Recipes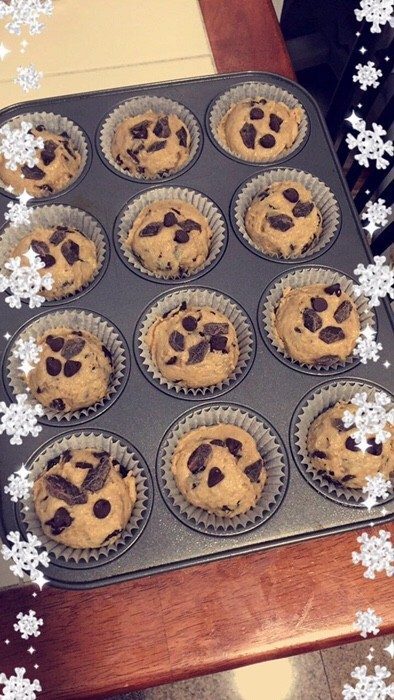 Yields: 12 muffins
Serving size: 1 muffin
INGREDIENTS:
4 over-ripe bananas
1/3 cup melted coconut oil or unsalted butter
1/2 cup sugar
1 egg
1 tsp vanilla extract
1 tsp baking soda
Pinch of salt
1 cup white whole wheat flour
1/2 cup Unbleached all purpose flour
1/2 cup semi sweet chocolate chips (plus more for the top)
1/2 cup dark chocolate chunks
DIRECTIONS:
Preheat oven to 350F.
Grease your muffin liners with a quick spray of cooking oil. (Tip: I've used liners without this technique before but because the muffins are so moist half of the muffin tends to just stick to the liner and make a mess).
Peel your bananas and throw them in a big bowl with the melted oil and smash it all together with a fork or use a food processor. Keep blending until there's no big chunks of banana left and the mixture is creamy and smooth.
Add the sugar, egg and vanilla and mix just until combined. Add salt and baking soda and stir. Pour in flour and mix. The mix doesn't have to be perfectly blended,  just try and get rid of all the flecks of flour. Dump in chocolate chips mix them around a bit so every bite has some chocolatey goodness.
Divide into muffin tins using a quarter cup ice cream scoop. Bake until cake tester or toothpick comes out clean. Usually 18-20 min.
** original recipe has been adapted from How to be lovely.
Banana Chocolate Chip Muffins

,
You can follow any responses to this entry through the RSS 2.0 You can leave a response, or trackback.