Whole Wheat Vegetable Lasagna
August 2nd, 2014 | Posted by in
Italian Cuisine
|
Lunch/Dinner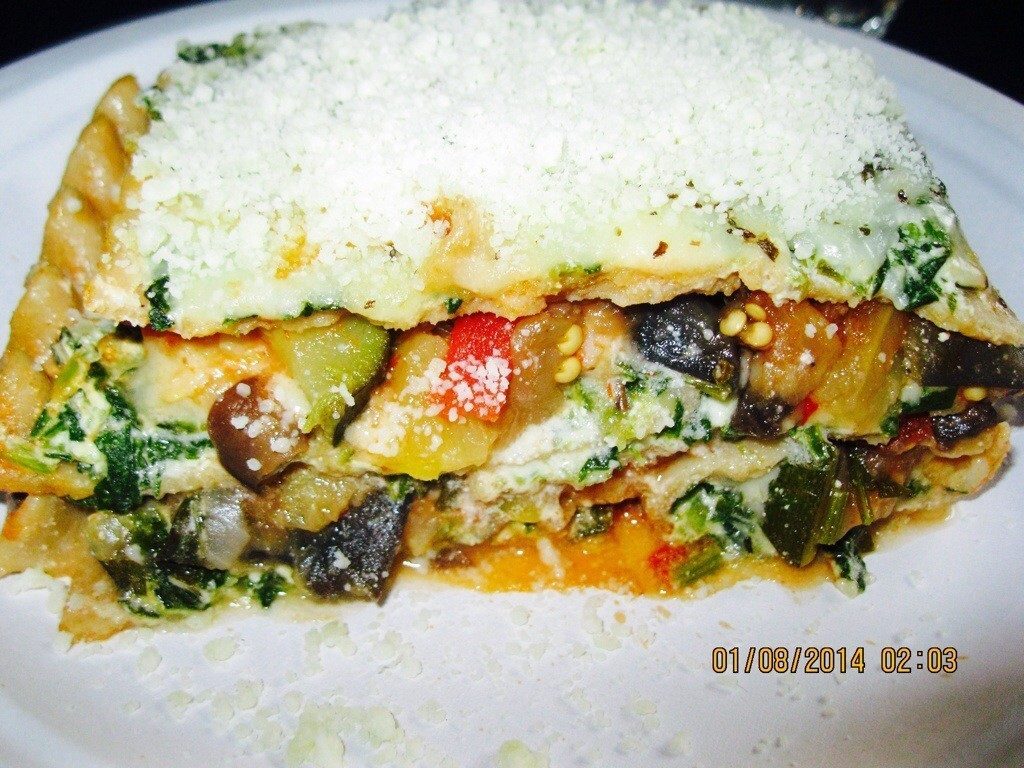 INGREDIENTS:
1 Box Whole Wheat Lasagna Noodles
2 Tablespoons Avocado Oil
1 whole Medium Onion
4 cloves Garlic
1 whole Red Bell Pepper, Diced
24 ounces, Baby Bella Mushrooms, Chopped
2 small Zucchini, Diced
1 large Eggplant unpeeled, diced in chunks
1 can (28 Ounce) No Salt Added Diced Tomatoes
1 can (8oz) No Salt Added Tomato Sauce
1/2 cup White Cooking Wine
1/4 cup Fresh Parsley, Chopped
1/2 teaspoon Kosher Salt
Freshly Ground Black Pepper
1/2 Teaspoon Red Pepper Flakes
2 containers (15 ounces each) Ricotta Cheese
2 whole Eggs
1 box (10 oz. each) frozen chopped spinach, thawed and water pressed out
1/2 cup Grated Parmesan
Freshly Ground Black Pepper
1 pound Shredded Mozzarella Cheese
DIRECTIONS:
Heat oven to 350 degrees.
Cook noodles according to package directions. Drain and lay flat on a sheet of aluminum foil or parchment paper with cooking spray in between layers to prevent sticking.
Heat olive oil in a large skillet or 4 quart dutch oven over medium heat. Add onions and garlic and cook for a minute. Add diced red peppers and saute for another minute or so. Add squash and mushrooms and cook for a few minutes. Add eggplant and cook an additional 3 min. Pour in wine, add salt, pepper, and red pepper flakes, and stir.
Pour in tomatoes and sauce. Stir to combine and let simmer for 20 minutes or so. Stir in chopped parsley.
In a separate bowl, combine ricotta, eggs, spinach, Parmesan cheese, and pepper.
To assemble, spread a little of the vegetable/tomato sauce in a lasagna pan. Layer four cooked noodles in the pan, slightly overlapping them if necessary. Spread 1/3 of the ricotta mixture on the noodles. Top the ricotta mixture with mozzarella slices. Spoon a little less than 1/3 of the veggie/sauce mixture over the mozzarella.
Repeat the layering two more times, ending with a large helping of vegetable sauce and a sprinkling of Parmesan.
Bake at 350 degrees, covered in foil, for 20 minutes, then remove foil and continue baking for 5 to 10 minutes. Remove from oven and allow to stand for 10 minutes before cutting into squares and serving.
Serves 12.
  12 Servings

Amount Per Serving


  Calories

381.7

  Total Fat

15.4

 g

  Saturated Fat

8.0

 g

  Polyunsaturated Fat

0.8

 g

  Monounsaturated Fat

5.4

 g

  Cholesterol

60.4

 mg

  Sodium

466.9

 mg

  Potassium

395.3

 mg

  Total Carbohydrate

38.6

 g

  Dietary Fiber

8.5

 g

  Sugars

5.5

 g

  Protein

26.0

 g
Whole Wheat Vegetable Lasagna

,
You can follow any responses to this entry through the RSS 2.0 You can leave a response, or trackback.