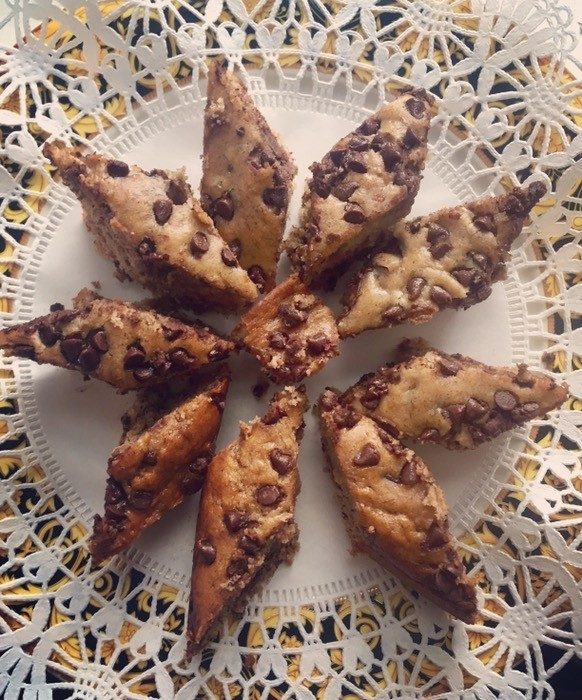 INGREDIENTS:
1- 1/2 cups white whole wheat flour, sifted
2/3 cup organic cane sugar
1 teaspoon baking soda
1 teaspoon ground cinnamon
1/2 teaspoon salt
3/4 cup organic soy milk
1/4 cup avocado oil
1 cup mashed banana (roughly 2 medium ripe bananas)
1 tablespoon white distilled vinegar
1 teaspoon vanilla extract
1 -1/2 cups semisweet chocolate chip
DIRECTIONS:
Preheat oven to 350F. Lightly grease an 8×8 square pan.
In a large bowl, whisk together the flour, sugar, baking soda, cinnamon, and salt.
In another large bowl, whisk together the soymilk, oil, banana, vinegar, and vanilla. Pour over the dry ingredients and mix everything until combined, being careful not to overwork the batter. Stir in 3/4 cup chocolate chips.
Spread the batter into the pan and top with the remaining 3/4 cup chocolate chips. Bake 25-30 minutes or until a toothpick inserted in the center comes out clean (it may have some chocolate on it). Cool completely before cutting and serving.
Vegan Banana Chocolate Chip Blondies

,
You can follow any responses to this entry through the RSS 2.0 You can leave a response, or trackback.