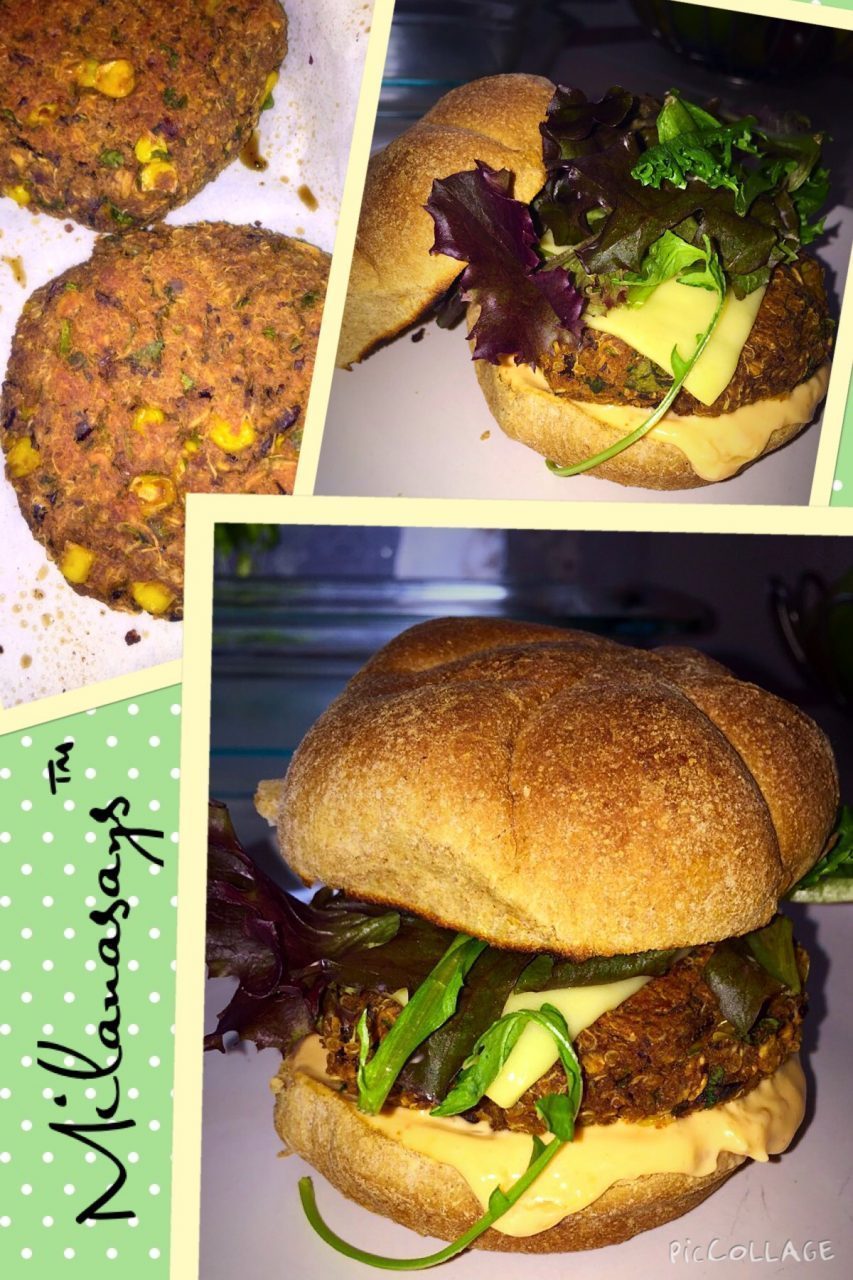 Makes 6 burger patties:
INGREDIENTS:
½ cup dry Organic quinoa
1 tsp olive oil
1/2 Organic red onion, chopped
3 cloves Organic garlic, minced
1/2 tsp Kosher salt, divided
1 (15 oz) can Organic black beans, drained and rinsed
2 Tbsp Organic tomato paste
1 large Organic egg
2/3 cup Organic frozen corn
1/2 cup Organic cilantro, chopped
1 tsp Smoked Paprika
2 tsp ground cumin
1/2 cup Organic rolled oats
1/4 cup oat flour
DIRECTIONS:
Place the quinoa in a small saucepan with 1 cup of water. Set the saucepan over medium-high heat and bring to a boil. Reduce heat to low, cover the pan, and cook 10-15 minutes until the water is absorbed and quinoa is cooked. Remove from heat. Note: this step can be done ahead of time.
Heat the oil in a small pan over medium heat and add the onion and garlic. Add 1/4 teaspoon salt and sauté until onions are softened, 5-6 minutes. Place the mixture into a large bowl. Add black beans to the bowl and using a potato masher or fork, mash together until a pasty mixture forms. Heat your oven to 400F.
Stir in the tomato paste, egg, corn, cilantro, chipotles, cumin and remaining 1/4 teaspoon salt. Stir in the cooked quinoa, oats, and oat flour until well mixed. Form the mixture into 6 equal patties, compacting them well with your hands as you form them. Place the patties on a greased baking sheet (I used coconut oil cooking spray) baking sheet. Bake for 10-15 min. Carefully flip the over and cook another 10 minutes. If using a griddle, heat 4-6 minutes per side or until slightly golden. Serve patties with any condiment that you like. I served it with a Sriracha aioli. Mixed 2 Tbsp of Light Mayonnaise, 1-1/2 tsp of Sriracha, and squeezed half of a lime. Mix together. Use as desired. Enjoy!
Nutrition Information (per burger): 200 calories; 4.3 g. fat; 31 mg. cholesterol; 160mg. sodium; 32.7 g. carbohydrate; 7.2 g. fiber; 11.3 g. protein