Macadamia Crusted Salmon
September 29th, 2017 | Posted by in
Lunch/Dinner
|
Recipes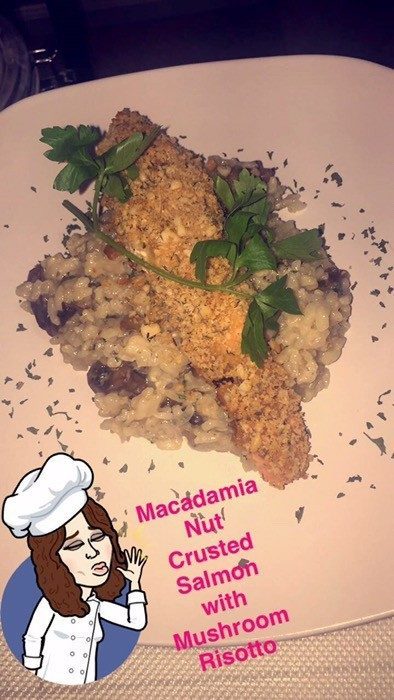 Link to Mushroom Risotto: CLICK HERE.
INGREDIENTS:
• 6 (4oz) Salmon Filet
• Salt and pepper to taste
• 1 Tbsp Honey
• 1 Tbsp Dijon mustard
• 1/4 cup whole wheat panko
• 1/4 cup macadamia nuts, finely chopped
• 1 tsp. fresh thyme, chopped or 1/2 tsp dried
DIRECTIONS:
Preheat oven to 400 F. Salt and pepper the salmon. Mix the honey with the mustard and paint on the salmon. Mix the panko crumb, macadamia nuts, thyme and salt and pepper to taste. Divide into 6 and mound on top of the salmon. Bake for 15-18 min. until salmon is just done. Serve with delicious creamy Risotto (link provided under photo). *original recipe adapted from: Sugar and Soul.
Macadamia Crusted Salmon

,
You can follow any responses to this entry through the RSS 2.0 You can leave a response, or trackback.