Decadent Red Velvet Cupcakes with Cream Cheese Frosting
December 4th, 2011 | Posted by in
Dessert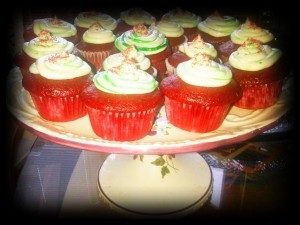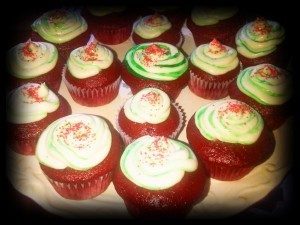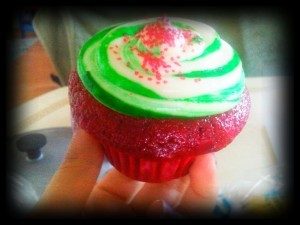 I made these delicious cupcakes for my sisters Sweet 16! She loved them!!! These are the most luxurious, low calorie red velvet cupcakes I have ever tasted!!! You guys must give these a try! I got this recipe off of skinnytaste.com Let me know how you guys like them! 🙂
Servings: 24 Serving
Size: 1 cupcake with frosting
1-1/2 cups cake flour
1 cup white whole wheat flour
1 cup cane or coconut sugar
1 tbsp unsweetened dutch-process cocoa
1 tsp salt
1 tsp baking powder
1 tsp baking soda
1 tsp white vinegar
1/2 cup unsweetened apple sauce
1/4 cup butter, softened
1 egg
2 egg whites
2 tsp vanilla
1-1/3 cup buttermilk or Trader Joe's Cultured Cashew Milk
1 tbsp red food coloring
Directions:
Preheat oven to 350. Line cupcake tins with liners. In a large mixing bowl, stir together flours, salt, cocoa, and baking powder. In another large bowl beat sugar, applesauce and butter. Beat in eggs and vanilla. In a separate bowl mix baking soda and vinegar. Add half of the dry ingredients into the egg mixture, mix well. Add buttermilk, red food coloring and mix well. Add the remaining dry ingredients and fold in vinegar and baking soda. Pour in prepared cupcake liners 3/4 of the way. Bake 20-25 minutes or until a toothpick inserted comes out clean. Cool, then frost with low fat cream cheese frosting.
Cream Cheese Frosting:
8 oz Cream Cheese
1 cup powdered sugar
1 tsp vanilla extract
Beat together cream cheese, powdered sugar and vanilla until smooth.
Decadent Red Velvet Cupcakes with Cream Cheese Frosting

,
You can follow any responses to this entry through the RSS 2.0 You can leave a response, or trackback.