Cremini Stuffed Chicken Rollatini
July 3rd, 2014 | Posted by in
Italian Cuisine
|
Lunch/Dinner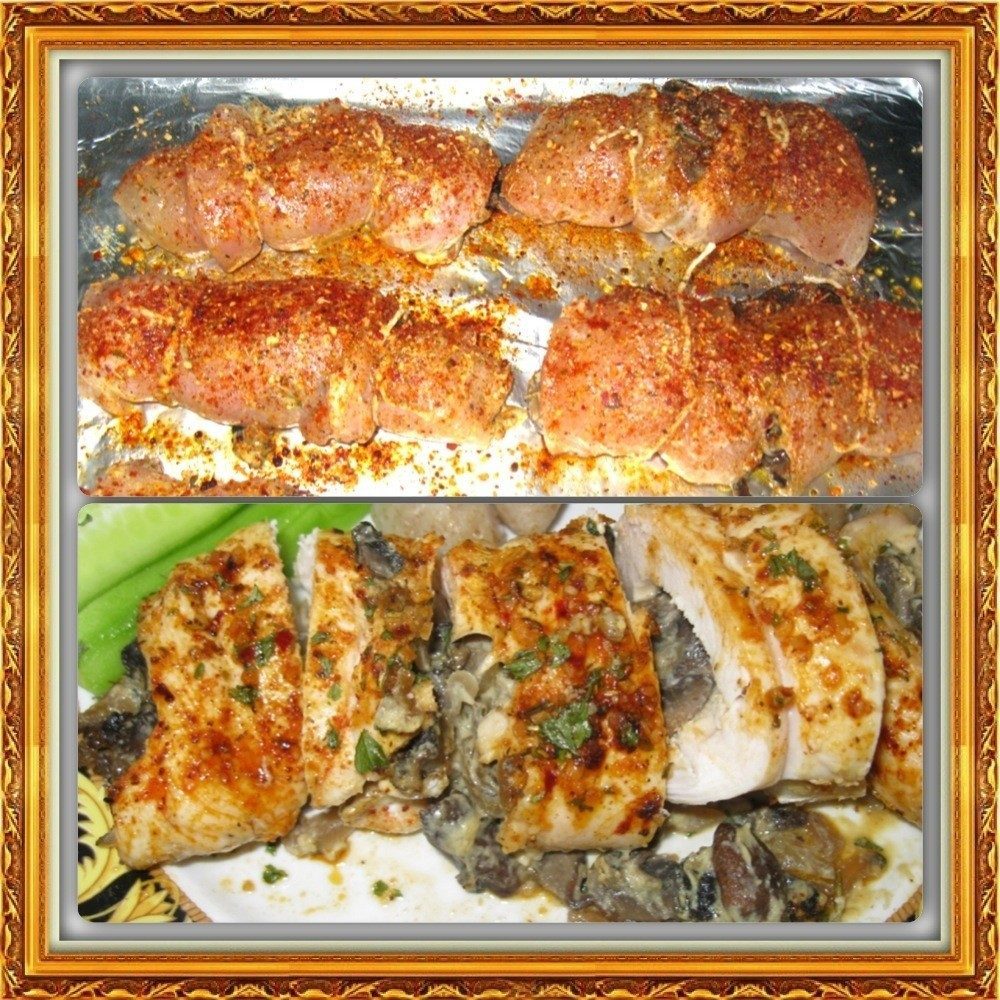 INGREDIENTS:
6 Chicken Breasts, butterflied and pounded flat
2 Boxes Cremini Mushrooms (stems removed, cleaned and sliced)
1 Large Sweet Onion Chopped
10 Garlic Cloves, minced
2 tsp fresh thyme or 1 tsp dried thyme
2 tsp fresh rosemary, chopped or 1 tsp dried
Salt and pepper to taste
2 Tbsp Grapeseed Or Avocado Oil
4 Tbsp Dijon Mustard
Kitchen Twine
DIRECTIONS:
Heat 2 tbsp of oil in a large skillet over med-high heat. Once the oil is shimmering, add the mushrooms. Cook for 3-5 min and add the onions. Cook mixture until onions are soft, another 3 min or so. Add the garlic, thyme, and rosemary. Cook until the herbs and garlic are fragrant, about a min. Season to taste with salt and pepper. Remove from heat and allow to cool for a little while. Heat oven to 350F.
Meanwhile prepare the chicken breasts by butterflying, and pounding.
On your cutting board, place 2 pieces of kitchen twine down vertically. Place the prepared chicken breast on top of the kitchen twine so that there is a piece of twine at either end of the chicken breast ( the longest side of the chicken should be perpendicular to the kitchen twine). Spread some mustard evenly on the chicken breast then layer with mushroom stuffing mixture. Roll from left to right and secure with the twine. Trim the ends. Place rolls on a greased baking sheet. Spray rolls with cooking spray and sprinkle with Mrs. dash Chicken Spice and paprika. Bake for 30 min or until a meat thermometer registers 180F in the center. Remove from oven and cover with foil for 10 min. Snip off the twine before slicing. Guiltless Eating! 🙂
  6 Servings

Amount Per Serving


  Calories

197.6

  Total Fat

7.2

 g

  Saturated Fat

1.1

 g

  Polyunsaturated Fat

0.5

 g

  Monounsaturated Fat

3.5

 g

  Cholesterol

35.0

 mg

  Sodium

972.5

 mg

  Potassium

62.4

 mg

  Total Carbohydrate

14.9

 g

  Dietary Fiber

0.7

 g

  Sugars

0.0

 g

  Protein

15.6

 g
Cremini Stuffed Chicken Rollatini

,
You can follow any responses to this entry through the RSS 2.0 You can leave a response, or trackback.