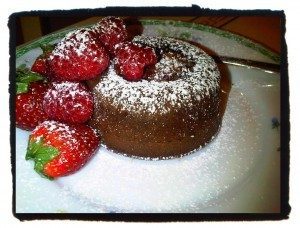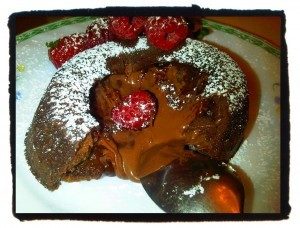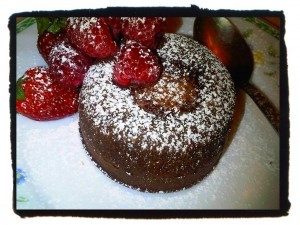 I don't know how long I've been wanting to use Nutella in my baking, it was hard to make a decision and I have finally found the ideal match! After trying to modify the original recipe I admit I was hesitant thinking the end result would be complete failure and to my surprise it was great success after all!  This is a divine dessert for a dinner party! Your guests will think you spent hours making these but it actually takes no longer than 15 min+ baking time. The original recipe was about 500 calories per serving and thanx to my modifications I can now proudly say each serving is 364 calories Isn't that amazing!?!? But regardless this is still a rare indulgence due to it's high fat and cholesterol content!  Hope you guys enjoy making these as much I do and I would love to read your feedback!……. I got the original recipe from a great blog www.ireallylikefood.com
INGREDIENTS:
4 oz Enjoy Life semi sweet or dark chocolate chips
3 Tbsp vegan butter or shortening
1/4 cup avocado oil
2 Large Eggs, room temperature
1/3 cup evaporated cane or coconut sugar
1/4 cup cake flour
4 Tbsp Dairy Free Nicciolata
cooking spray for ramekins
DIRECTIONS:
Melt chocolate, oil and butter in microwave, in thirty second intervals and stirring in between until it is completely melted and mixed.
In a medium mixing bowl, whisk the eggs, and sugar until light and fluffy.
Add chocolate mixture gradually into the eggs. Add flour and mix until incorporated.
Grease 6 cupcake/muffin molds with cooking spray. Fill each about 3/4 full with batter. Then put 2 teaspoons of nicciolata in the middle of each.
Bake in a pre-heated oven at 350 degrees F for about 10-12 minutes. The cake should be cooked on the sides but still gooey in the center.
Remove cakes carefully and turn upside down onto plate. You may need to use a knife gently along the sides of the muffin molds. Serve while warm. Garnish with powdered sugar and berries! Enjoy!
Chocolate Molten Lava Cake

,
You can follow any responses to this entry through the RSS 2.0 You can leave a response, or trackback.