Choc. Chip Zucchini Cupcakes w/ Orange Cream Frosting!
November 28th, 2011 | Posted by in
Dessert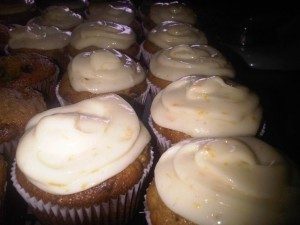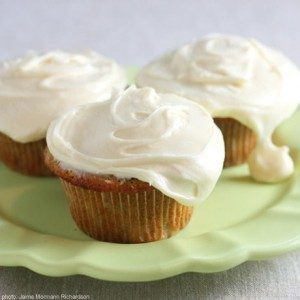 I got this scrumptious recipe off of wholefoodsmarket.com. I know it may seem odd to have a vegetable in your dessert but I promise you will not taste or see the zucchini in the finished product! The addition of the veggie makes these cupcakes extremely moist not to mention very nutritious 😉
INGREDIENTS:
1 cup lowfat buttermilk
2 teaspoons baking soda
4 cups powdered sugar, divided
1/2 cup canola oil
2 eggs
2 1/2 cups whole wheat pastry flour
2 cups grated zucchini (water drained and patted dry)
1 cup semisweet chocolate chips
6 tablespoons neufchâtel, softened
2 teaspoons zest and 1 tablespoon juice from 1 orange
DIRECTIONS:
Preheat oven to 350°F. Line 24 muffin cups with cupcake liners; set aside. Stir together buttermilk and baking soda in a medium bowl; set aside. In a large bowl, beat 2 cups sugar and oil together with an electric mixer for 1 minute; beat in eggs one at a time; set aside. Toss flour with zucchini and stir into sugar mixture along with buttermilk mixture; fold in chocolate chips. Spoon batter evenly into muffin cups.
Bake until puffed and golden brown, and a toothpick inserted in the middle of a cupcake comes out clean, about 25 minutes; set aside to let cool completely.
To make frosting, beat together remaining sugar, neufchâtel, orange zest and juice in a large bowl with an electric mixer until fluffy, about 2 minutes. Frost the cupcakes and serve.
Nutrition Info:
Per serving (1 each): 260 calories (80 from fat), 9g total fat, 3g saturated fat, 30mg cholesterol, 150mg sodium, 42g total carbohydrate (2g dietary fiber, 31g sugar), 3g protein
Choc. Chip Zucchini Cupcakes w/ Orange Cream Frosting!

,
You can follow any responses to this entry through the RSS 2.0 You can leave a response, or trackback.