Skinny Banana Double Chocolate Chip Muffins
July 3rd, 2013 | Posted by in
Breakfast/Brunch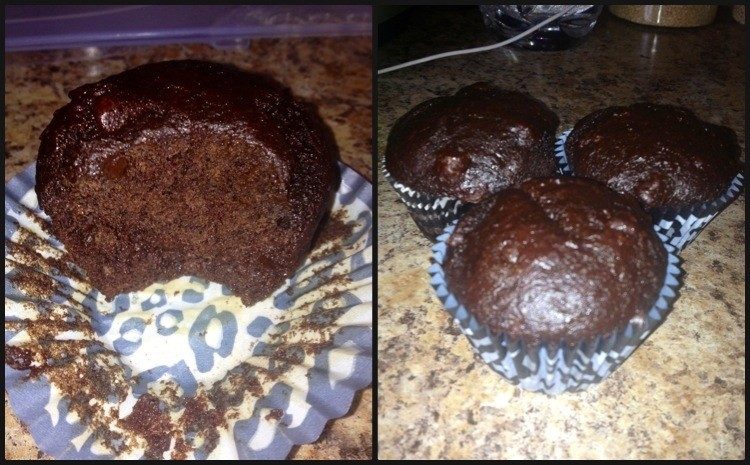 These are the yummiest Banana muffins ever!!!! They do not require any dairy or fat and are a perfect chocolate lover's snack-GUILT FREE!!! My husband can consume 3 of these in one sitting without thinking twice if im not looking…hahahaha! 😛
INGREDIENTS:
3 large very ripe bananas
2/3 cups cane or coconut sugar
1 large egg
1/3 cup unsweetened applesauce
1/2 cup white whole wheat flour
1/2 cup unbleached all-purpose flour
1/2 cup unsweetened cocoa powder
1/2 teaspoon salt
1 teaspoon baking soda
1 teaspoon baking powder
3/4 cups semi-sweet chocolate chips
DIRECTIONS:
Preheat the oven to 375F degrees. Line a muffin tin with baking cups. Set aside.
*Be sure to sift your dry ingredients together to avoid pockets of cocoa powder lumps.
In a large bowl mash the bananas well with no big lumps. Stir in the sugar, egg, and applesauce.
Sift the flour, cocoa powder, salt, baking soda and baking powder into the wet ingredients. Lightly mix to combine. Fold in chocolate chips. The batter will be a little chunky. Do not over mix.
Fill the batter into 9 muffin cups (fill them all the way to the top, mine didn't rise much). Bake for 18-20 minutes or until a toothpick inserted into the middle comes out clean. Allow muffins to cool for a few minutes, then transfer to a wire rack to cool completely. Enjoy with a cold glass of fat free milk or unsweetened almond milk.
9 Servings
Amount Per Serving
Calories 220.3
Total Fat 5.6 g
Saturated Fat 3.3 g
Polyunsaturated Fat 0.2 g
Monounsaturated Fat 0.5 g
Cholesterol 24.0 mg
Sodium 274.0 mg
Potassium 216.6 mg
Total Carbohydrate 44.3 g
Dietary Fiber 4.5 g
Sugars 26.0 g
Protein 3.7 g
Skinny Banana Double Chocolate Chip Muffins

,
You can follow any responses to this entry through the RSS 2.0 You can leave a response, or trackback.