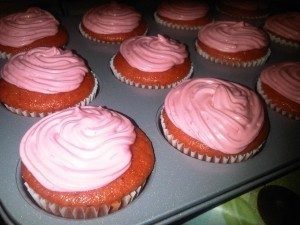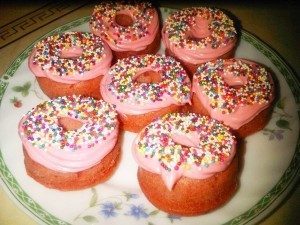 This is among one of my favorite cupcake recipes! They're so pretty, moist and make for perfect guilt-free dessert! I had some batter left so I used a donut mold pan to make mini cake donuts!…. I found the original recipe on recipegirl.com…You may use fresh starwberries all you have to do is freeze them beforehand to draw out the moisture from them and just puree the same way as the recipe requires.
INGREDIENTS:
1 -1/4 cups cake flour
1 cup white whole wheat flour
1 cup evaporated cane or coconut sugar
2 -3/4 teaspoons baking powder
1/4 teaspoon salt
1/4 +1/8 cup unsweetened applesauce
1/4+1/8 cup avocado oil
3/4 cup pureed frozen strawberries (about 1/4 of a 1 pound bag)
4 large egg whites
1/3 cup unsweetened original Ripple Milk + a few drops of pink/red gel food coloring
Strawberry Cream Cheese Frosting:
6 oz. Cream cheese, softened
1 tsp vanilla extract
1 cup Powdered sugar
1/3 cup pureed strawberries
DIRECTIONS:
1. Preheat oven to 350°F. Line 18 cupcake pan with paper liners.
2. In a medium bowl, whisk together flours, sugar, baking powder and salt; set aside.
3. In a large bowl with electric mixer, blend avocado oil, applesauce and strawberry puree. Add flour mixture and blend until light and fluffy (batter will be very thick).
4. In another bowl, whisk together egg whites, milk and dye. Add whites in three parts to the batter mixture, mixing only until incorporated after each addition.
5. Fill cupcake liners about 3/4 full. Bake 18 to 22 minutes, or until toothpick inserted in center comes out clean.
6. Combine all frosting ingredients in a bowl and beat until silky and smooth. Add 1 drop of red food gel coloring and mix again. Frost cupcakes after completely cooled.
18 Servings

Amount Per Serving


  Calories

199.0

  Total Fat

7.0

 g

  Saturated Fat

1.8

 g

  Polyunsaturated Fat

1.5

 g

  Monounsaturated Fat

3.3

 g

  Cholesterol

7.3

 mg

  Sodium

159.7

 mg

  Potassium

45.9

 mg

  Total Carbohydrate

31.4

 g

  Dietary Fiber

1.3

 g

  Sugars

18.8

 g

  Protein

3.8

 g