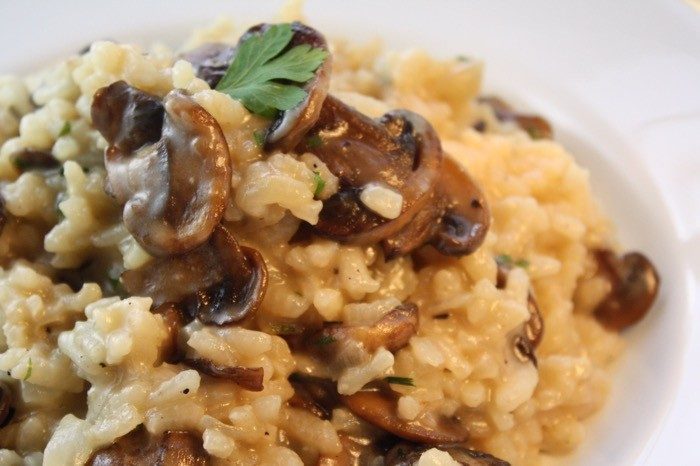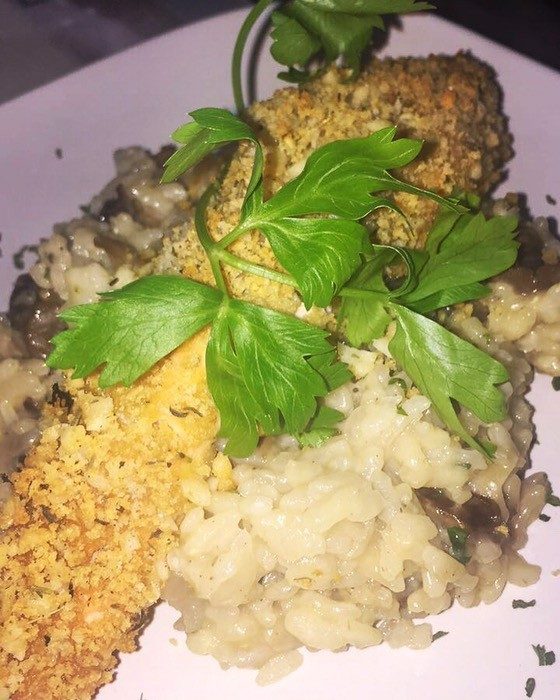 *Top Photo Credits: Cooking Clarified
Prep Time: 10 min.
Cook Time: 25 min.
Serves: 8 as a side dish; 4 as a main dish
INGREDIENTS:
• 6 cups low sodium chicken or vegetable broth, divided
• 1 to 2 pounds mushrooms of your choice, I used organic button
• 2-3 shallots, roughly diced
• 2 cups Arborio rice
• 3/4 cup dry white wine
• 1/4 cup chopped parsley of your choice or chives
• ½ teaspoon salt, more or less to taste
• black pepper to taste
• 2 Tbsp unsalted butter or coconut oil if making vegan
• ¼ cup freshly grated parmesan cheese, more or less to taste (omit this if making vegan and use 2 Tbsp Nutritional Yeast instead)
DIRECTIONS:
1 In a medium saucepan, warm the broth over medium heat.
2 Heat a large cast-iron or non-stick skillet to high heat. Add mushrooms to dry skillet and stir as the mushrooms release their juices. Turn heat to medium-high and continue to stir until juice starts to be absorbed and mushrooms are browned. Sprinkle with a dash of salt and continue cooking until the rest of the liquid is absorbed, about 1 minute. Remove mushrooms and set aside.
3 Reduce heat to medium and add 2 Tbsp of Avocado oil.
4 Stir in the shallots. Cook about 1 minute or until shallots begin to soften. Add rice, stirring to coat with oil, about 2 minutes.
5 Pour in the wine, stirring constantly until the wine is fully absorbed.
6 Return heat to medium-high and using a mug or measuring cup add 1 cup of broth to the rice and stir until the broth is absorbed. Continue adding the hot broth one cup at a time, stirring continuously, making sure the liquid becomes absorbed before adding more broth. When you've got almost all the broth added, begin turning the heat down to medium (altogether it should take 20 min up to this point).
7 Turn off the heat and stir in the mushrooms. Season with salt and pepper. (At this point, if you want a vegan meal, this is done and perfectly tasty.)
8 Add the butter, parsley or chives and parmesan. Enjoy!
**Original recipe from Good Dinner Mom.