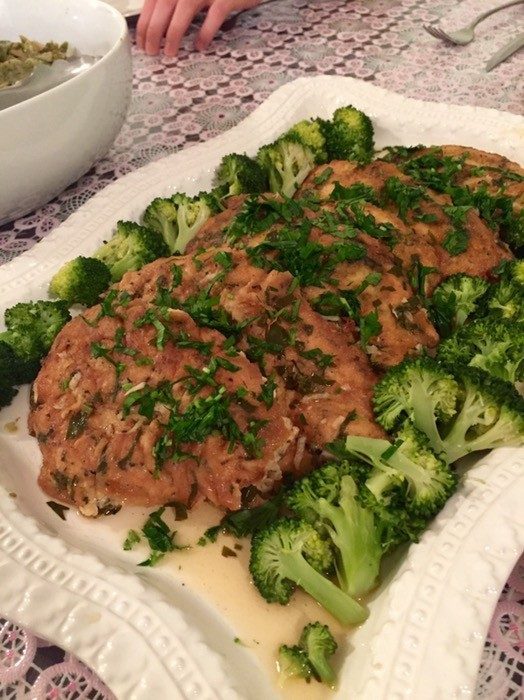 Yields: 8 Servings
INGREDIENTS:
3 Tbsp Avocado Oil
1/2 cup White Whole Wheat Flour (for dredging)
Salt and pepper to taste
1/2 tsp oregano
1/2 tsp dried basil
4 Boneless, Skinless Chicken Breasts (Butterflied, pounded to 1/4″ thickness and cut in half)
3 Eggs plus 3 Tbsp of water (whisked)
3 Garlic Cloves, minced
1 cup White Cooking Wine
1 Cup Low Sodium Homemade Chicken Stock or Broth
2 Lemons (zest and juice)
2/3 cups Capers (optional)
1 Cup Fresh Chopped Parsley, divided
4 Tbsp Vegan Shortening
DIRECTIONS:
Heat a large deep sauté pan with the avocado oil on medium/high heat.
Season your flour with salt, pepper, oregano and basil. Dredge chicken lightly in the flour. Set aside. Using 1/2 of the chopped parsley ( reserve the rest for sauce and garnish), whisk in to the egg wash. Dip chicken breasts into the egg wash and carefully lay it into the pan. Cook 2 min until golden brown, flip and cook an additional 2 minutes. Set aside on a plate. The chicken will finish cooking in the sauce.
Add the minced garlic to the pan and cook for about 20 seconds. Deglaze with the wine, scraping up brown bits with a wooden spoon. Stir in the broth, lemon juice and capers and allow to reduce for 2 minutes.
Add the lemon zest, parsley, vegan butter and swirl to emulsify. Place the chicken back into the pan with the sauce, close lid and cook for 15 min on low heat. Serve with favorite pasta, steamed broccoli, and a salad. Enjoy!