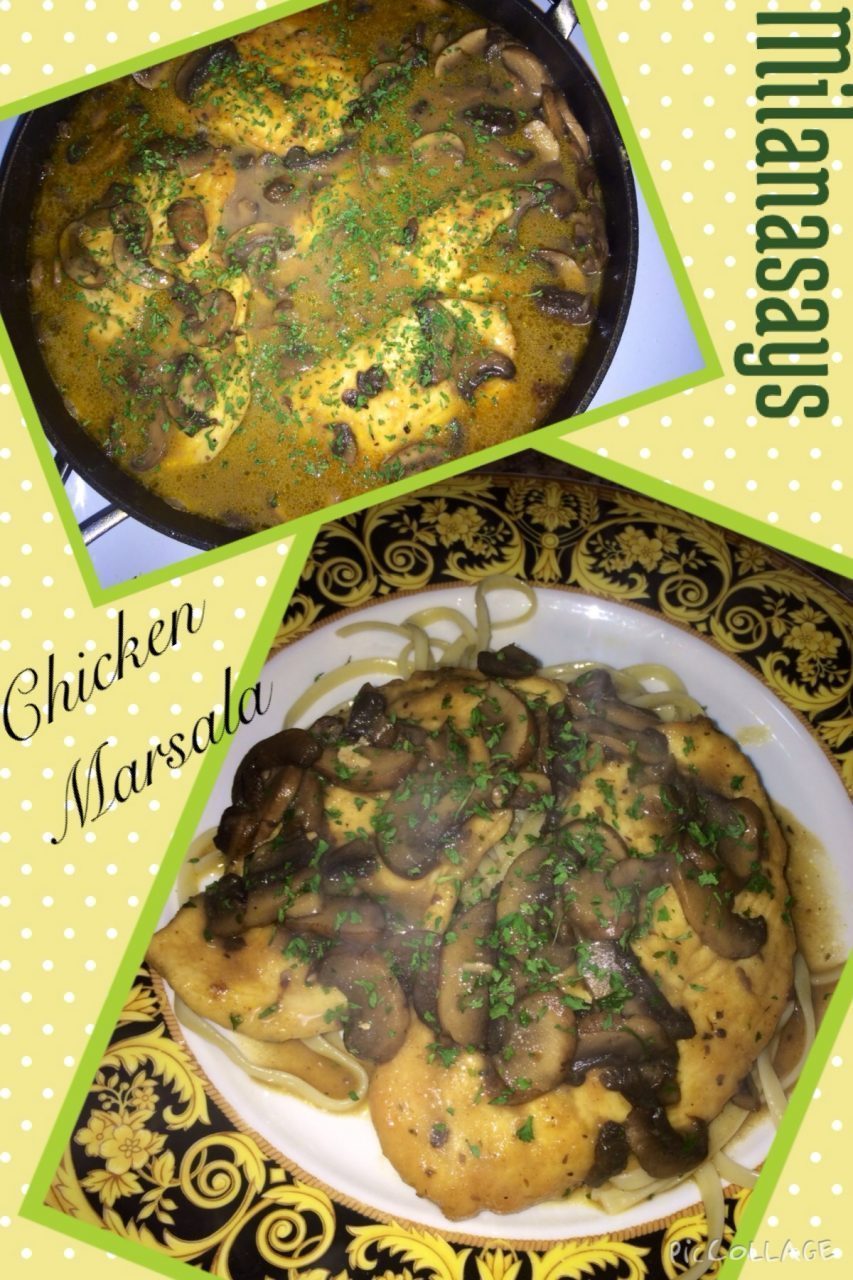 Makes 8 servings
INGREDIENTS:
4 Boneless, Skinless Chicken Breasts
1/2 Cup White Whole Wheat Flour
1 Tbsp Paprika
1-1/2 tsp Ground Turmeric
1/4 tsp Finely Ground Black Pepper
2 tsp Garlic Powder
1-1/2 tsp Onion Powder
1/2 tsp salt
2 tsp Dried Oregano
2 tsp Dried Thyme
2 tsp dried rosemary
1 tsp Cayenne Pepper (optional)
2 Tbsp olive oil or Avocado Oil
3 Tbsp Vegan Butter
3 Cups sliced Mushroom Caps (cremini, shitake, baby bella)
3/4 Cup Marsala Wine
1 Cup Chicken Stock
Chopped Chives for Garnish
DIRECTIONS:
Butterfly chicken breast halves and pound thin. Cutting each Butterfly down the center to give you 2 thin chicken breasts.
In a shallow bowl or plate combine the flour and all seasoning spices and stir to combine thoroughly. Quickly dredge the chicken breast halves in the seasoned flour mixture, shaking to remove any excess flour.
Heat the oil in a large skillet over medium-high heat until very hot but not smoking. Add 1 tablespoon of the margarine and cook the chicken breasts until golden brown on both sides, about 3 minutes per side. Transfer to a plate and set aside. Add another Tbsp of the margarine to the pan and add the mushrooms. Cook, stirring frequently, until mushrooms are golden brown around the edges and have given off their liquid. Add the Marsala wine and bring to a boil, scraping to remove any browned bits from the bottom of the pan. When the wine has reduced by half, add the chicken stock and cook for 3 minutes, or until the sauce has thickened slightly. Lower the heat to medium and return the chicken breasts to the pan and continue to cook until they are cooked through and the sauce has thickened, about 5 to 6 minutes. Swirl in the remaining Tbsp of margarine. Garnish with chopped chives and serve with your favorite side. Enjoy!