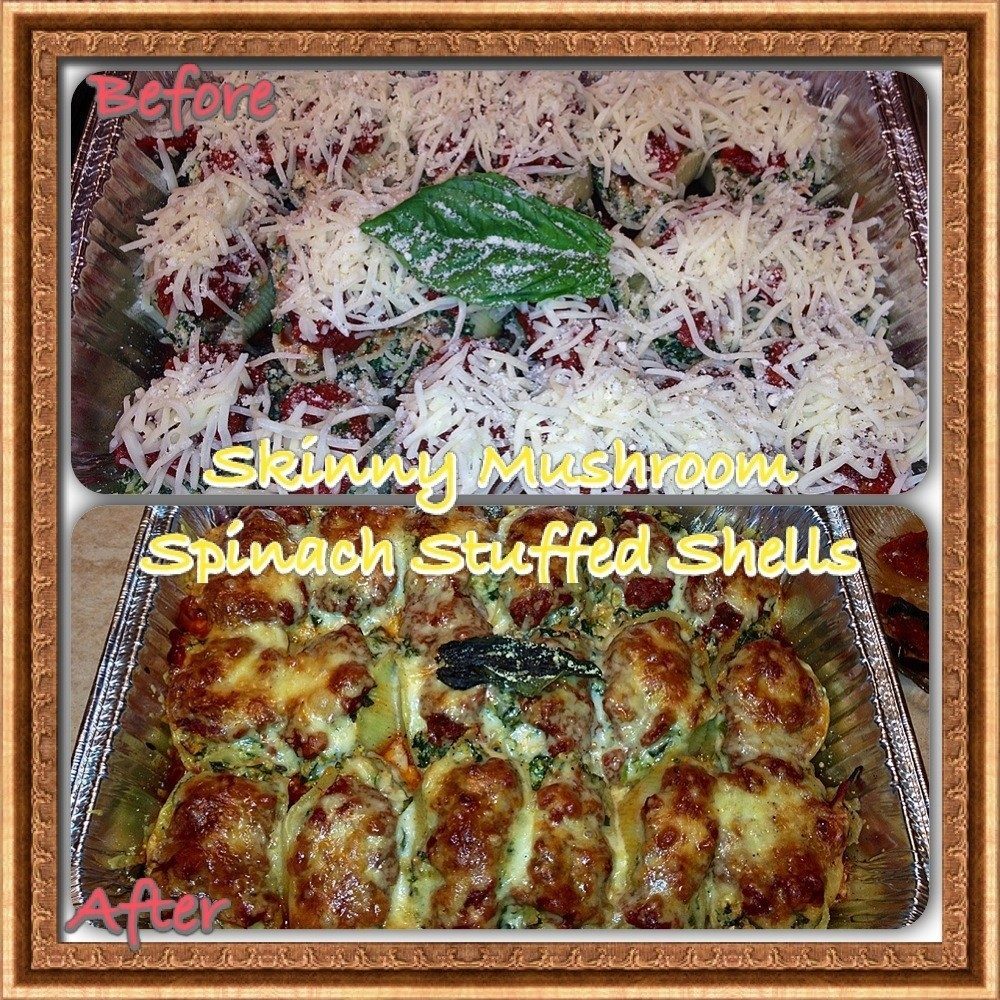 INGREDIENTS:
24 jumbo pasta shells, (8 ounces)
3 cups Miur Glen Organic Italian Herb Pasta Sauce
1 Large Sweet Onion, finely chopped
1 bag fresh baby spinach
2 cups chopped mushrooms
2 cups ricotta cheese
2 cups low moisture shredded mozzarella
1 large egg
2/3 cup whole wheat breadcrumbs
1/2 cup freshly grated Parmesan cheese
1/4 cup fresh basil, finely chopped
1 tbsp dried oregano
5 garlic cloves, minced
1/4 tsp ground nutmeg
1 tsp salt
1/2 tsp freshly ground pepper
DIRECTIONS:
Preheat oven to 375°F.
Cook shells until just tender, according to package directions. Drain and rinse under cold water. Set aside.
Spray a large nonstick skillet with cooking spray and set over medium-high heat. Add onions and mushrooms and cook, stirring occasionally, until softened, about 3 minutes.
Add spinach in batches and toss with tongs until wilted. Let cool. Set aside.
Combine ricotta, basil, oregano, garlic, breadcrumbs, 1/4 cup Parmesan and nutmeg in a bowl; mix well. Add the reserved spinach and mushroom mixture and season with salt and pepper. Stir in egg.
Stuff each of the reserved shells with a generously with about a tablespoon of the ricotta mixture.
Spread 1 cup marinara sauce in the bottom of a 9-by-13-inch baking dish. Arrange the stuffed shells in a single layer.
Top with the remaining 2 cups of the sauce sprinkle with mozzarella and the remaining 1/4 cup Parmesan cheese. Bake until the top is golden and the shells are heated through, about 30 minutes. Let cool for 10 minutes before serving.
Makes 6 Servings
NUTRITION ANALYSIS:
Serving Size: 4 Shells per person
Calories: 269 Calories
Total Fat: 5 g
Carbohydrates: 48g
Dietary Fiber: 7g
Protein: 27g