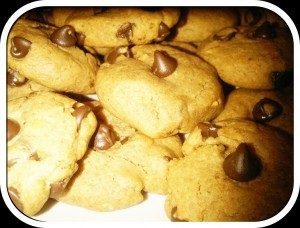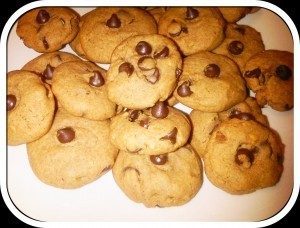 These are my all time favorite cookies!! Who doesn't love the combination of peanut butter and chocolate together!?…yuuummm!!!! I found this recipe on another blog site called sweetandnatural.wordpress.com I changed a few ingredients to make it my own. Hope you give these cookies a try and let me know how you like them.
INGREDIENTS:
1 cup white whole wheat flour
1/2 tsp baking soda
1/4 tsp salt
1/2 cup Organic Creamy Peanut Butter
3 Tbsp of Avocado Oil
1/2 cup Pure Honey
1 tsp Pure Vanilla Extract
1/4 cup+2 Tbsp Dark chocolate chips
DIRECTIONS:
Preheat oven to 350F. In a large bowl, whisk together  flour, salt, and baking powder and set aside. On another mixing bowl whisk together peanut butter, honey, oil, and vanilla. Add the dry to the wet ingredients. A thick cookie dough will form. Stir in the chocolate chips until completely incorporated. Take a small cookie scoop and scoop out dough into your palm, roll it into a ball,  place on a cookie sheet and sightly flatten down to form a round cookie. Repeat with the rest of the cookies. Will make 20 small cookies. Bake 8-10 min. Cookies should puff up slightly, allow them to set on the cookie sheet for about 10-15 min before eating .
20 Servings

Amount Per Serving


  Calories

111

  Total Fat

5.8

 g

  Saturated Fat

1.1

g

  Polyunsaturated Fat

0.5

 g

  Monounsaturated Fat

1.8

 g

  Cholesterol

0.0

 mg

  Sodium

80.4

 mg

  Potassium

4.7

 mg

  Total Carbohydrate

11.9

g

  Dietary Fiber

1.4

 g

  Sugars

5.8

g

  Protein

2.3

g