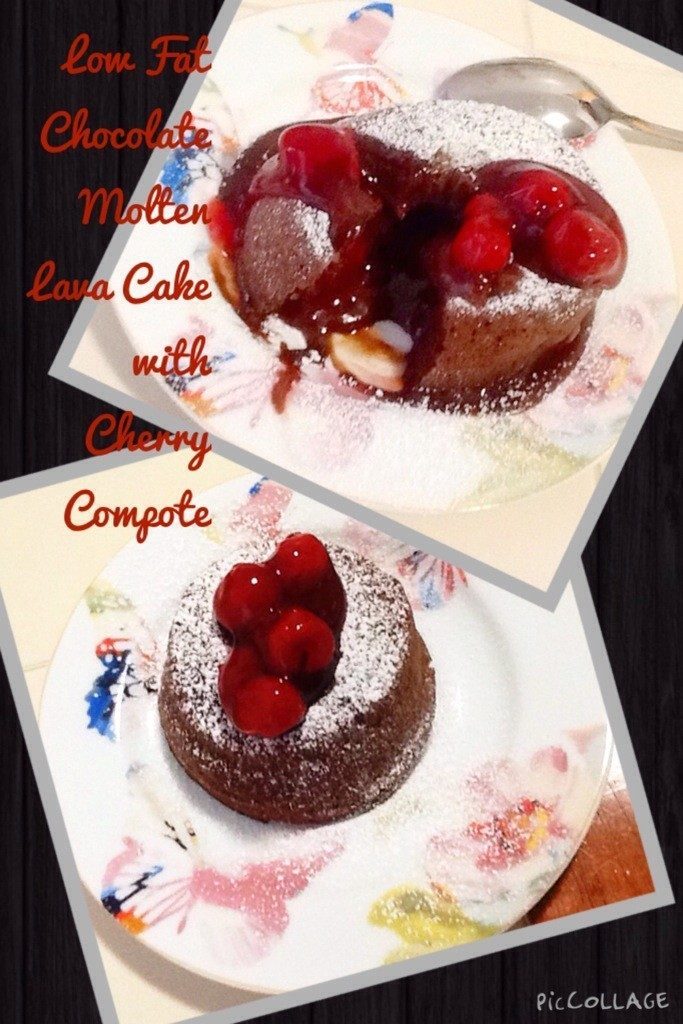 Everyone knows that usually lava cakes require eggs and additionally egg yolks that further increase cholesterol and fat contents per serving. Of course everyone wants the luxurious velvety textures without all the artery-clogging effects. Therefore, I have found this recipe that makes scrumptious lava cakes with much lower fat and saturated fat contents. Give this a try and I promise you won't miss the eggs! Especially when each serving comes out to a staggering 281 calories with 6.1 grams of insoluble fiber compared to 590 of the traditional version with zero grams of fiber but loaded with sugar, much higher cholesterol and overall fat contents.
INGREDIENTS:
2 Tbsp White Whole Wheat Flour
3 Tbsp Unsweetened Cocoa Powder
1/4 tsp Baking Powder & Baking Soda
2 Tbsp Semi Sweet Chocolate Chopped (60% cocoa)
2 Tbsp Unsalted Butter or Coconut Oil*
1/4 cup + 2 Tbsp Nonfat Plain Greek Yogurt
2 Tbsp Unsweetened Vanilla Almond Milk
2-6oz. Ramekins
*if using coconut oil it will alter the saturated fat per serving since it is a plant based saturated fat.
DIRECTIONS:
Heat oven to 350F. In the meantime, spray your 6oz. Ramekins with cooking spray.
Sift your flour,cocoa, baking powder,and baking soda.
In a double boiler melt chocolate with butter. Add sugar and whisk well until sugar dissolves. Fold in flour mixture. Add yogurt and milk until mixture is nice and smooth.
Pour mixture evenly into ramekins and bake 6-7 min. The cakes should be firm all around and liquid-like in the center.
Invert cakes onto plate. Dust with powdered sugar and top with berries or a compote of your choice. Enjoy!