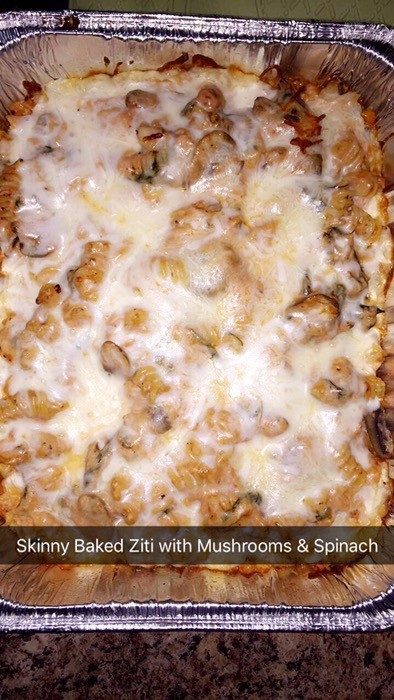 INGREDIENTS:
12 oz uncooked white fiber ziti, penne or rotini, boiled 2 min before al dente bec it'll cook further in the oven, set aside in a pot
1 Jar Trader Joe's Organic No Salt Added Marinara sauce
1 tsp olive oil
3 cloves garlic, minced
15 oz. package Organic Baby Spinach, washed and dried
2 (10 oz. containers) Mushrooms, sliced
2 tsp dried oregano
2 tbsp chopped fresh basil
kosher salt and fresh pepper to taste
15 oz. Part Skim Ricotta
1/4 cup grated Parmesan cheese
2 cups (8 oz) shredded part skim mozzarella (I recommend Sargento), divided
2 tsp Olive Oil
olive oil cooking spray
INGREDIENTS:
Preheat oven to 375°F. Spray a 9×13-inch baking pan with oil spray.
Meanwhile, in a medium saucepan, add olive oil and sauté garlic. Add spinach, salt, pepper and mushrooms. Sautee for a few min until the Mushrooms are tender. Season with basil, oregano, salt and pepper and Marinara sauce cook an additional 5 minutes.
Add sauce to the pasta and combine. Add Ricotta, Parmesan cheese, and half of the mozzarella . Mix well then transfer to the baking pan.
Pour the pasta mixture into the prepared pan and spread evenly. Top with the remaining mozzarella. Spray some foil with cooking spray and cover so the cheese doesn't stick to it.
Bake for 30 minutes, or until mozzarella is melted and the edges are lightly browned. Let it cool 5 minutes before serving.
Original recipe adapted from Skinny Taste.
NUTRITION CONTENT:
Yield: About 8-10 servings
Serving Size: scant 1-1/2 cups
Amount Per Serving:
Smart Points: 8
Points +: 8