Tandoor Chicken
January 10th, 2014 | Posted by in
Indian Cuisine
|
Lunch/Dinner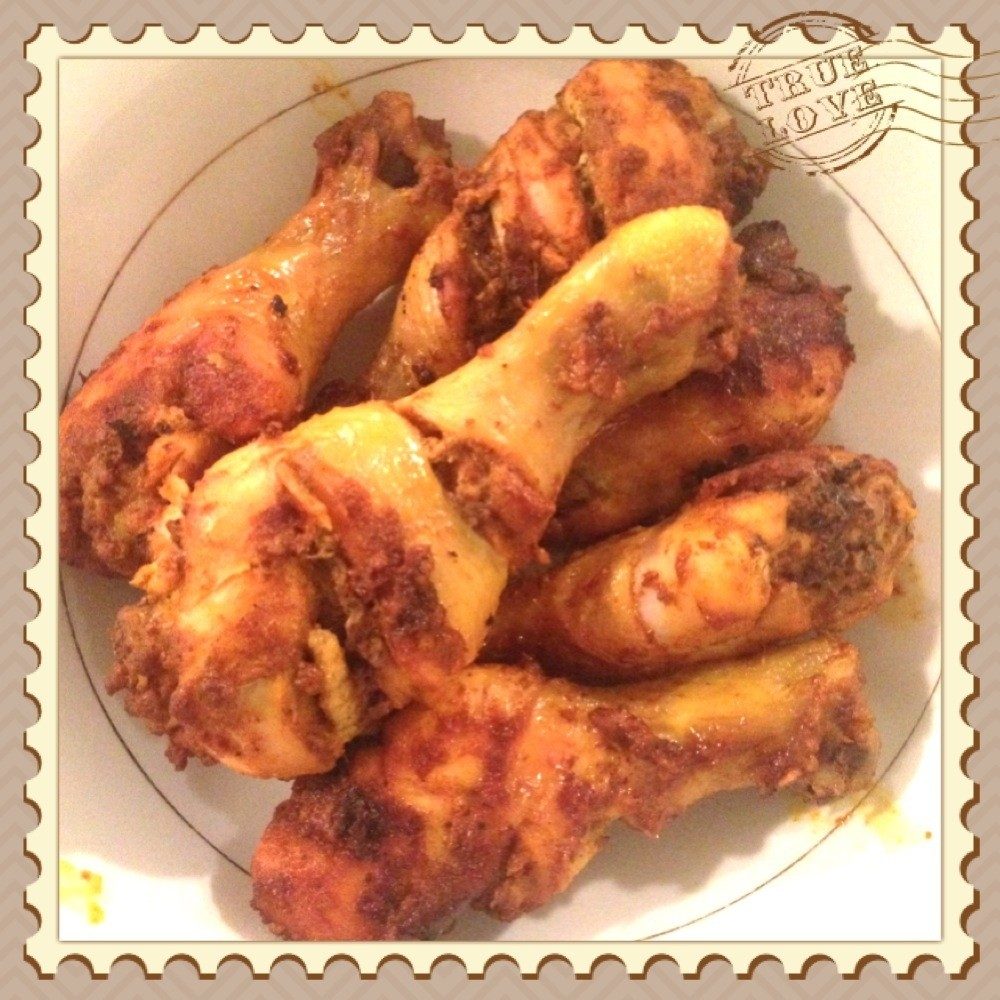 INGREDIENTS:
1 Tbsp sweet paprika
1 Tbsp garam masala
1 Tbsp ground cumin
1 Tbsp ground coriander
1/2 tsp ground turmeric
1 Tbsp finely grated peeled fresh ginger
4 garlic cloves, minced
1/4 cup Trader Joe's Cultured Cashew Beverage
1 tablespoon fresh lemon juice
1/4 cup peanut oil
Kosher salt
Freshly ground pepper
1 tsp plant based red food coloring
12 chicken skinless drumsticks (about 4 1/4 pounds)
DIRECTIONS:
Preheat the oven to 450°. In a small skillet, toast the paprika, garam masala, cumin, coriander and turmeric over moderately low heat, stirring, until fragrant, about 2 minutes. Transfer the spices to a medium bowl and cool slightly. Stir in the ginger, garlic, cultured cashew milk, lemon juice and 2 tablespoons of the oil, food coloring and season with salt and pepper.
In a large bowl, add the spiced buttermilk and rub it onto the chicken. Arrange the chicken in a deep roasting pan leaving 2 inches between the pieces. Roast for 45 minutes, turning occasionally, until the chicken is golden brown and cooked through. Serve with Basmati Rice. Enjoy!
NUTRITION ANALYSIS:
12 Servings
Serving Size: 1 Drumstick
Calories: 236.1
Total Fat: 9.7g
Sat Fat: 1.2g
PUFA: 2.5g
MUFA: 5g
Cholesterol: 47.7mg
Sodium: 357.1mg
Potassium: 184.6mg
Total Carbohydrates: 20.3g
Dietary Fiber: 2.6g
Sugar: 0.7g
Protein: 17.4g
Tandoor Chicken

,
You can follow any responses to this entry through the RSS 2.0 You can leave a response, or trackback.