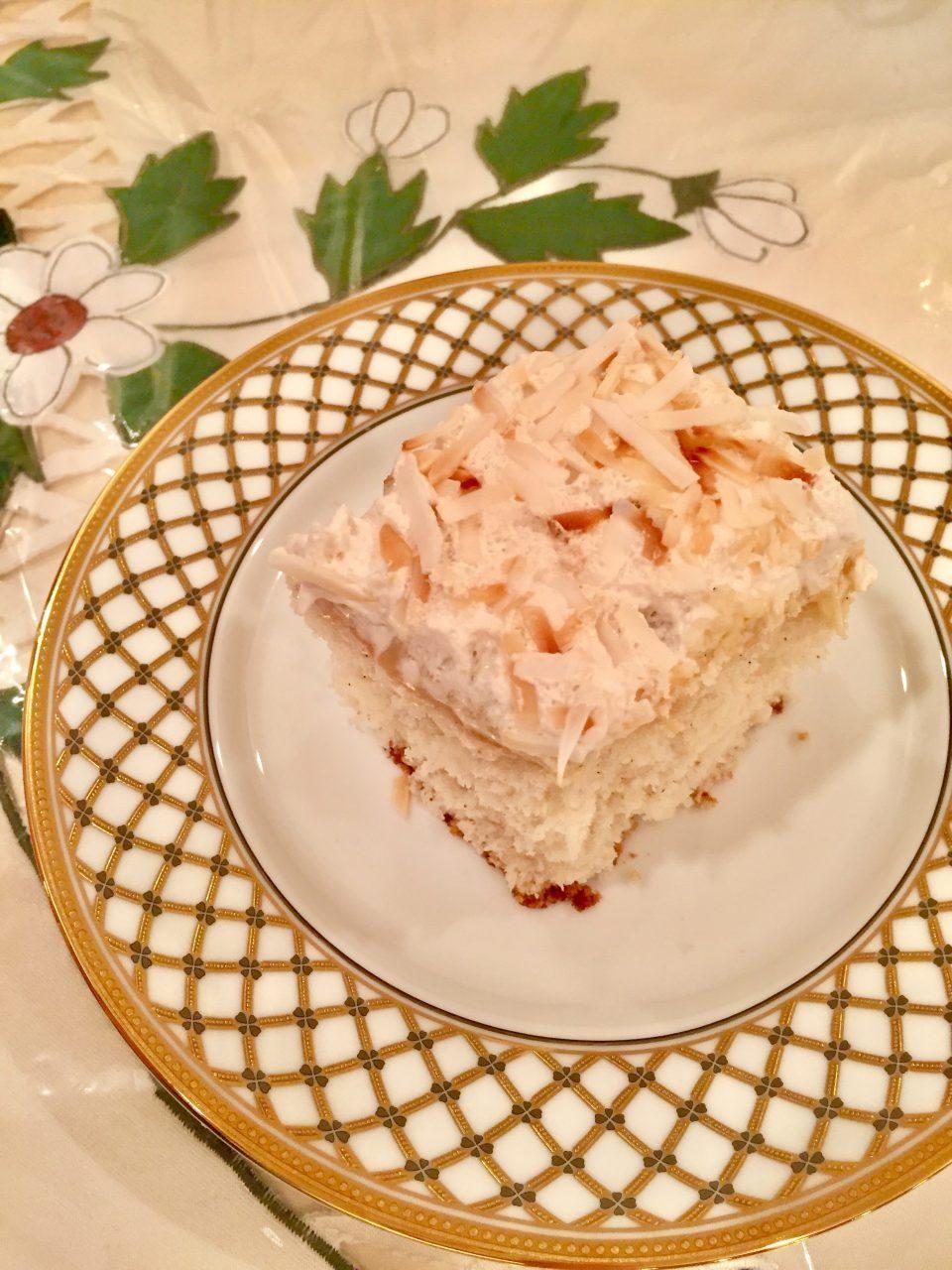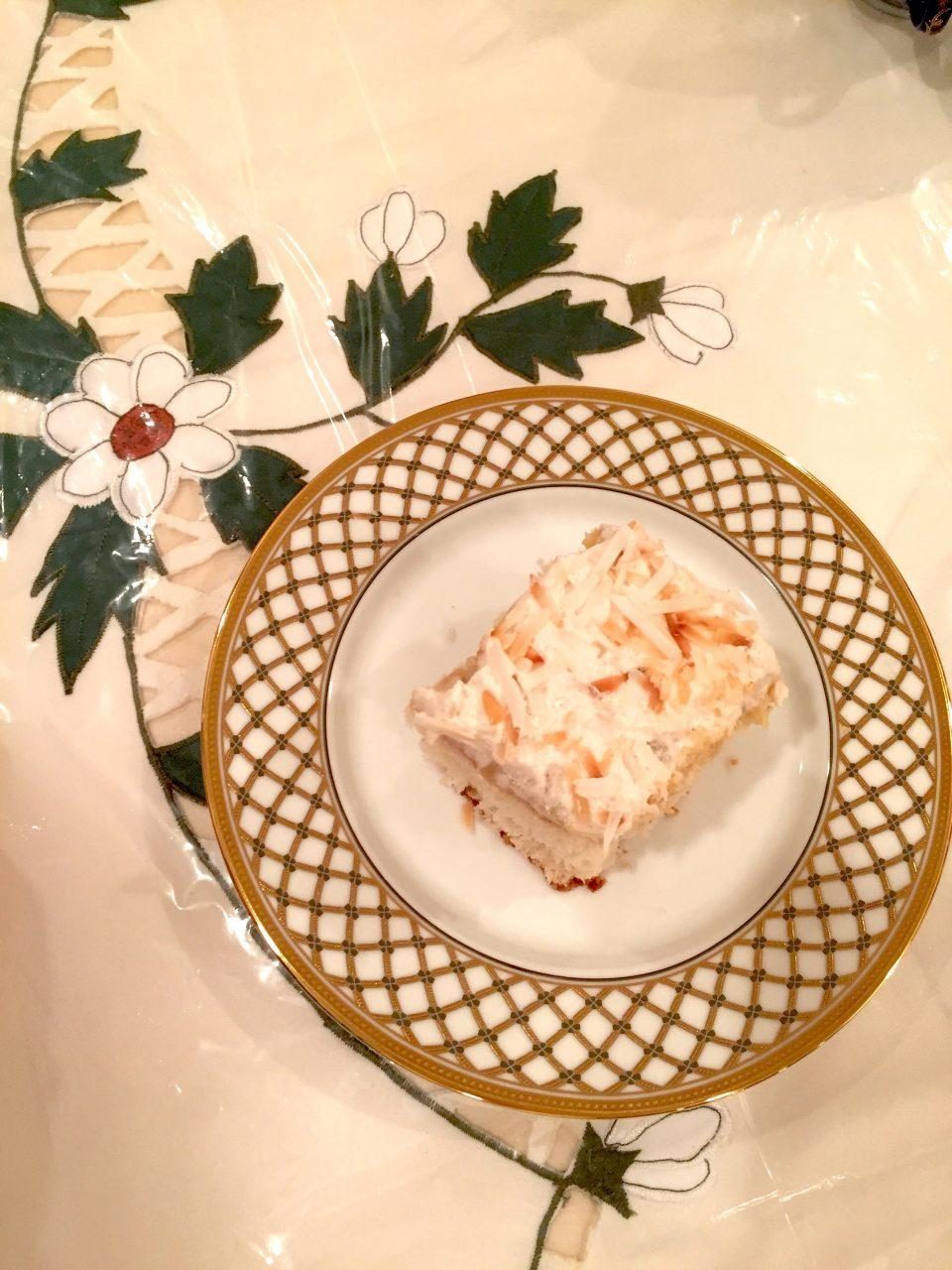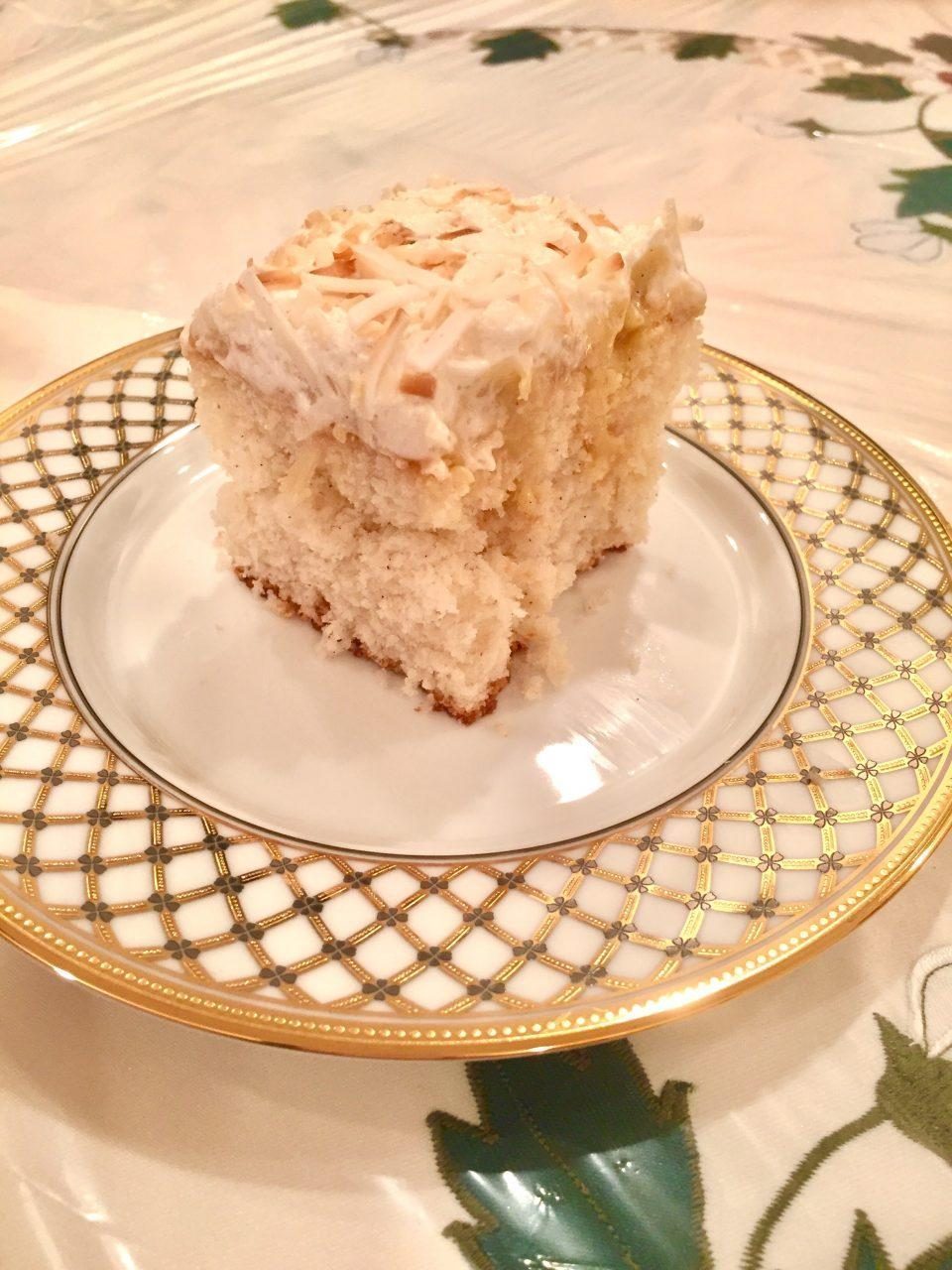 INGREDIENTS:
CAKE:
2-1/2 cups Sifted Cake Flour (sift cake flour first, then measure out for the recipe)
2 tsp Baking Powder
1/2 tsp Baking Soda
1/2 tsp Salt
1/2 cup Coconut Oil
1/4 cup Unsweetened Applesauce
1-1/2 Cups Evaporated Cane Sugar (or regular granulated sugar)
5 Large Egg Whites, room temperature (you'll be using the yolks to make custard)
1/3 cup Vegan Sour Cream, at room temperature (I like to use Wayfare)
2 tsp Vanilla Bean Paste (I use Trader Joe's. Can substitute for regular vanilla extract but won't have the same flavor)
1 tsp Coconut Extract (I use Flavorganics)
1 cup Ripple Unsweetened Vanilla Milk, room temperature ( or can substitute for canned coconut milk; I like Trader Joe's Organic)
COCONUT CUSTARD:
1 can Organic Canned Coconut Cream (I use Trader Joe's)
1 cup Ripple Unsweetened Vanilla Milk
3/4 Unsweetened Shredded Coconut (I use Trader Joes)
2/3 Cup Sugar, divided (I use organic evaporated cane sugar)
1/4 tsp Salt
5 Large Egg Yolks, room temperature
2 Tbsp Organic corn starch or arrowroot powder
1 Tbsp Coconut Oil
1-1/2 tsp Vanilla Bean Paste
COCONUT FROSTING:
1 can Organic Coconut Cream, I get mine from Trader Joe's, refrigerated at least 2 hours
1 Tbsp Maple syrup or any other sweetener on hand
1 tsp Vanilla Extract
DIRECTIONS:
CAKE: Heat oven to 350F. Grease 9×13" cake pan with baking spray. In a large mixing bowl, whisk the cake flour, baking powder, baking soda, and salt together. Set aside.
Using a handheld or stand mixer fitted with a paddle or whisk attachment, beat coconut oil and sugar together on medium-high speed until smooth. Scrape down sides and bottom of the bowl with a rubber spatula as needed. Beat in egg whites until combined, then add sour cream, applesauce, vanilla paste, and coconut extract. Beat until combined. Scrape down sides as needed. Mixture may look curdled as a result of varying textures. This is normal. With mixer on low speed, slowly add in the dry ingredients and the milk. Beat on low speed until combined.
Pour batter evenly into baking pan and bake for 40 minutes or until a tooth pick inserted in the center comes out clean.
CUSTARD: In a medium sauce pan, combine coconut cream, milk, shredded coconut, 1/3 cup sugar and salt. Bring to a simmer and stir occasionally. While mixture is cooking, In another medium bowl, whisk together the egg yolks, 1/3 cup sugar and starch.
Slowly add 1/2 cup of the coconut mixture into the eggs while whisking to ensure the eggs don't curdle. Add another 1/2 cup while whisking then transfer yolk mixture into the saucepan with the coconut mixture. Continue whisking until mixture thickens and a few bubbles have surfaced.
Turn off the heat and stir in coconut oil and vanilla bean paste. Let mixture cool down to a warm temperature, mixing every 5 minutes to help cool quickly.
When cake cools, poke holes with the end of a wooden spatula. Pour custard all over cake spreading evenly. Allow to cool completely before frosting.
FROSTING:
Open the can and scoop out the hard cream into a bowl leaving behind any liquid in the can. Add your sweetener and extract and using a hand mixer beat until fluffy and creamy. Frost cooled cake and garnish with toasted unsweetened shredded coconut.