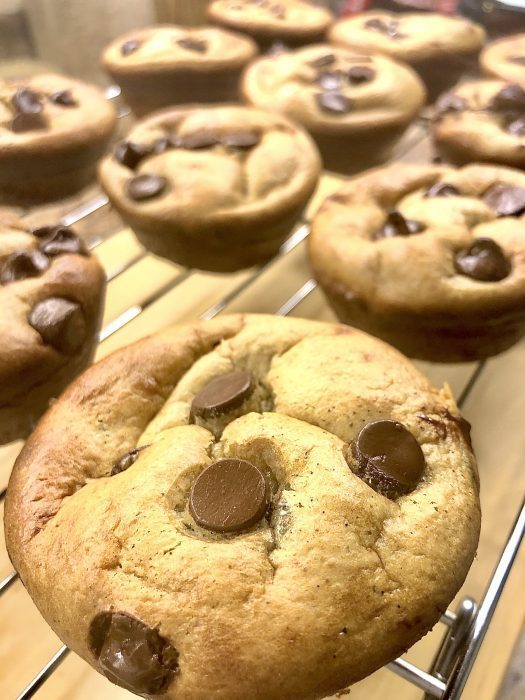 Gluten Free, Dairy Free, Grain Free, Paleo, Refined Sugar Free, Soy Free, Vegetarian
INGREDIENTS:
2 Very Ripe Large Bananas
1 cup Creamy Peanut Butter (the kind with just peanuts in the ingredient list)
2 large eggs
1/4 cup 100% Maple Syrup
2 Tbsp Honey (can substituted for Maple syrup)
1/2 tsp baking soda
1 Tbsp Vanilla Bean Paste or Extract
1 cup Semi Sweet or Dark Chocolate Morsels
Food processor
DIRECTIONS:
Heat oven to 400°F. Grease a standard muffin tin with cooking spray and set aside.
Add first 7 ingredients to your food processor and purée until smooth and creamy. Fold in the chocolate scraping down the sides to ensure that it's fully incorporated.
Using a cookie scoop distribute the batter evenly among the muffin cups. Add a few more chocolate chips on top. Bake at 12-15 min or until a tester comes out slightly a lean. I like to under bake them just a tad bit because they continue baking in the tin due to all the residual heat. Allow the muffins to cook for 10 min then transfer onto a cooking rack. They're delicious when warm with all that oozing, yummy chocolate. Enjoy!
Serving size is 1 muffin.
Originally adapted from Chef Savvy.