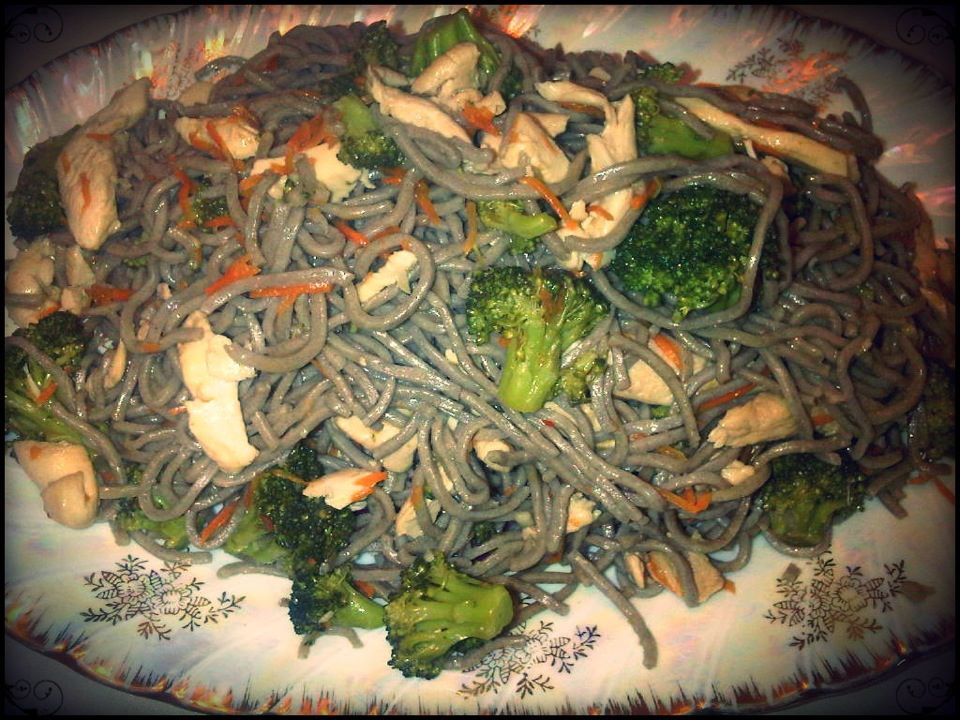 Fast, easy, calorie friendly and delicious meal for any weeknight.
INGREDIENTS:
8 oz. Soba Noodles cooked according to package directions, drain and keep warm.
3/4 cup water
3 tablespoons low sodium soy sauce
1 teaspoon rice vinegar
1/4 teaspoon red pepper flakes
2 teaspoons cornstarch
1 tablespoon expeller-pressed canola oil, divided
1 pound boneless, skinless chicken breast, cut into strips
3 cloves garlic, minced
2 teaspoons minced peeled fresh ginger
3 cups small fresh broccoli florets (from about 1 large crown)
1 carrot, peeled and cut into thin strips
DIRECTIONS:
Combine water, soy, vinegar, pepper and cornstarch in a bowl. Heat a wok or heavy skillet over high heat. When very hot, add 1/2 tablespoon oil. Add chicken and stir-fry until lightly browned, about 2 minutes. Remove from wok and set aside. Add remaining oil, garlic and ginger; stir-fry 30 seconds. Add broccoli and carrot; stir-fry 2 minutes. Add soy mixture and chicken, stir well, and cover. Lower heat to medium and simmer until vegetables are tender, about 3 minutes. Toss with noodles and serve.
 4 Servings

Amount Per Serving


  Calories

286.2

  Total Fat

4.4

 g

  Saturated Fat

0.4

 g

  Polyunsaturated Fat

1.3

 g

  Monounsaturated Fat

2.2

 g

  Cholesterol

10.3

 mg

  Sodium

946.0

 mg

  Potassium

474.2

 mg

  Total Carbohydrate

51.0

 g

  Dietary Fiber

2.6

 g

  Sugars

1.3

 g

  Protein

15.3

 g
*Original recipe adapted fromhttp://www.wholefoodsmarket.com