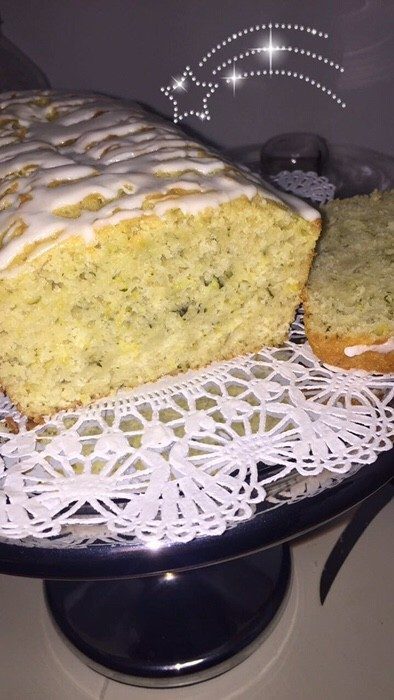 Yields: One Loaf (about 10 slices)
Serving Size: 1 slice
INGREDIENTS:
1-1/4 cup sugar
6 Tbsp Extra Virgin Olive Oil
2 Large Eggs at room temp.
1/3 cup unsweetened Almond Milk
1 tsp Vanilla Extract
1 tsp Almond Extract
2 Cups Cake Flour***
1-1/4 tsp Baking Powder
1/2 tsp kosher salt
1-1/2 Cups shredded zucchini, squeezed and drained
2 Tbsp Lemon zest
Glaze:
1 cup powdered sugar
1-2 Tbsp Meyer Lemon Juice
DIRECTIONS:
Heat oven to 350F.
Spray your loaf pan with cooking spray or baking spray. You may also line it with parchment paper. Set aside. In a medium bowl, whisk together flour, baking powder and salt. Set aside. In your stand mixer or hand mixer. Whisk together sugar and oil until combined well. Add eggs, almond milk. Whisk well. Now add extracts and lemon juice until incorporated. Add in flour mixture and whisk on low until just combined. Fold in the zucchini and zest. Pour into pan and bake for 45-50 min or until cake tester comes out clean. Cool 10 minutes in the pan and then completely on a cooling rack.
To make glaze, whisk together ingredients and pour over cooled cake. Enjoy!
*** if you do not have cake flour you may use All Purpose Flour using this equation:
1 cup AP Flour- 2 Tbsp AP Flour+ 2 Tbsp corn starch or arrowroot powder = 1 cup cake flour