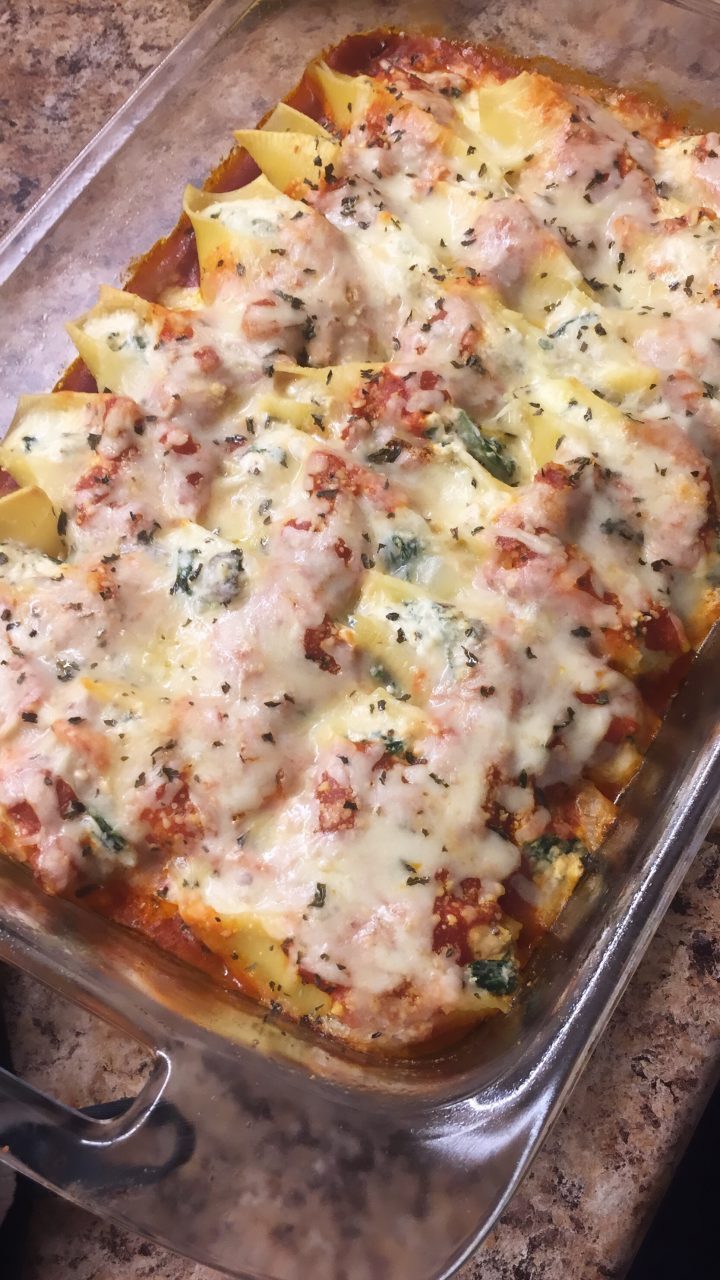 1 box Jumbo Shells, boiled to al dente and set aside
1 -15oz container Ricotta Cheese
1 Large Egg, lightly beaten
1 Tbsp fresh Basil, chopped finely or 1 tsp dried
1- 10 oz. bag/box of frozen chopped spinach, thawed and moisture pressed out as much as possible or 2 cups fresh baby spinach
1/4 cup grated Parmesan Cheese
1-1/2 cup Shredded Mozzarella Cheese, ( I use organic)
3/4 Trader Joe's Mushroom Umami seasoning
1/2 tsp finely ground black pepper
1-1/2 Tbsp Avocado Or Olive Oil
2 Garlic Cloves, minced
1/2 (10 oz) container baby Bella Mushrooms, diced to a 1/4″
1/4 tsp dried oregano
1/2 tsp dried parsley
Gallon size ziploc bag
2-1/2 cups Muir Glen Organic No Sugar Added, Italian Herb Pasta Sauce
Cooking Spray (I use Coconut Oil)
9×13 Casserole dish
DIRECTIONS:
Heat oven to 350°F.
In a large skillet, heat oil, add mushrooms and Sauté for about 4 minutes stirring every min. Add garlic and sautéed for another min on medium heat. Add 1/4 tsp Umami seasoning, basil, and oregano and sauté for another min. Add another 1/4 tsp Umami. Stir until spinach wilts and shrinks in size. Cool mixture until warm.
In the meantime, in a large bowl, mix ricotta, 1/2 cup mozzarella, egg, Parmesan, 1/4 tsp Umami, parsley and pepper. Stir in your mushroom and onion mixture. Transfer mixture into Ziploc bag and cut one corner.
Have a 9×13 casserole dish greased with cooking spray. Pour about 1-1/2 cups of the sauce into the casserole dish so it can evenly spread out and cover the whole bottom.
Stuff each shell with a generous amount of mixture and place them into the casserole dish. Pour more sauce around and on top of the shells. Sprinkle a little more Parmesan and then the remaining mozzarella cheese. Bake for 30 minutes. Serve with a side of salad…Enjoy!