Spinach Saag
January 10th, 2014 | Posted by in
Indian Cuisine
|
Lunch/Dinner
|
Vegan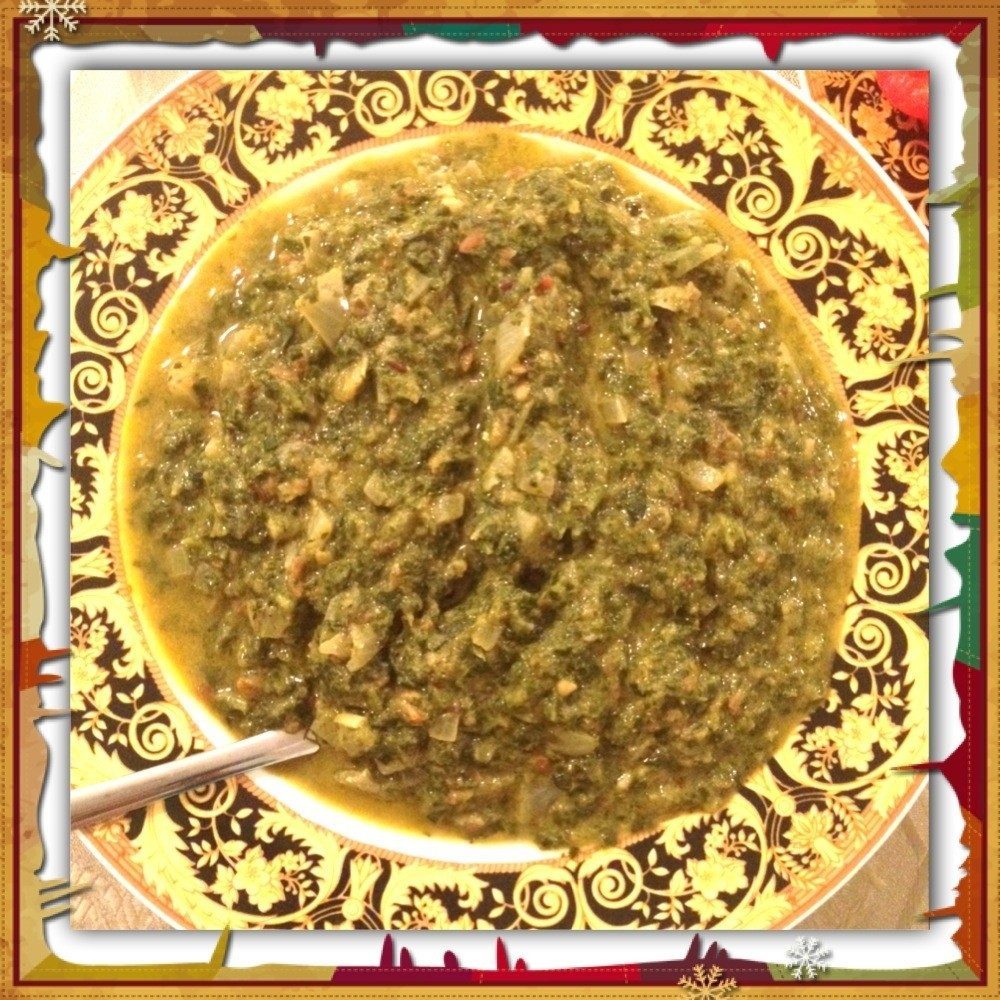 This dish an authentic North Indian delicacy. The flavors in Saag are mild compared to other curries and its a great way to get some Iron and folate into your meal. You can use fresh or frozen spinach for this dish.I used a combination of fresh Baby Spinach, Baby Kale and Chard from the salad section grocery stores that's pre-washed. Saves time and effort!
INGREDIENTS:
2 Packages (6oz each)Fresh Spinach or any mustard greens
1 tsp Cumin Seeds
2 medium sweet Onions or 1 Large, finely chopped
2 tsp grated Ginger
2 tsp (about 3-4 cloves)Garlic, minced
2 Tomatoes
1 tsp Ground Coriander
1 tsp Ground Cumin
1/2 tsp Garam Masala
1/2 tsp Red chili powder or Ground Chipotle
3 Tbsp Peanut or Avocado Oil
Dash or pinch of Salt to taste
1/4 Cup Vegan Sour Cream.
DIRECTIONS:
Boil the spinach or mustard greens for two minutes in a cup of water.Once its cool, puree in a food processor or hand blender until all smooth.
Puree the tomatoes.
Heat oil in a deep skillet and add the cumin seeds.
Once it splutters add onions and saute until slightly golden.
Add ginger and garlic and saute until raw smell disappears.
Add the tomato puree and spices,salt and cook on medium heat for about 5-6 minutes.
Add the pureed spinach and let it simmer on medium heat for 10 min. Add a little water if its too thick.
Add the sour cream. Stir to combine.
Serve hot with Roti or Naan! Enjoy!
Nutrition Analysis:
6 Servings (about 1 cup per person)
Calories Per Serving: 113.2
Total Fat: 8g
Sat Fat: 1.6g
Polyunsaturated Fat: 0.8g
Monounsaturated Fat: 5.3g
Cholesterol: 3.3mg
Sodium: 445.2mg
Potassium: 479.2mg
Total Carbohydrates: 8.5g
Dietary Fiber: 2.5g
Sugars: 0.7g
Protein: 2.9g
Vitamin A: 113.3%
Vitamin B6: 4.5%
Vitamin C: 38.9%
Calcium: 8.3%
Copper: 3.1%
Folate: 38%
Iron: 13.5%
Manganese: 33.1%
Riboflavin: 8.5%
Spinach Saag

,
You can follow any responses to this entry through the RSS 2.0 You can leave a response, or trackback.