Mixed Berry Parfait!!
November 22nd, 2011 | Posted by in
Food Picks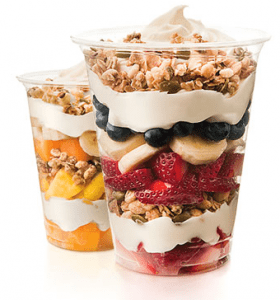 This is my favorite fat free protein-fruit snack from Red Mango. You simply choose your favorite frozen yogurt (my fave is the regular-pomegranate swirl) and then have it layered with fresh strawberries, raspberries, blueberries, sliced banana and topped with flax granola. At 210 calories per parfait nothing else beats this refreshing, fat free, not to mention antioxidant-rich snack!! If you prefer the tart taste of regular yogurt then you will absolutely love this!!!!
Mixed Berry Parfait!!

,
You can follow any responses to this entry through the RSS 2.0 You can leave a response, or trackback.