Delicious Pumpkin Bread or Muffins
November 22nd, 2011 | Posted by in
Breads
|
Thanksgiving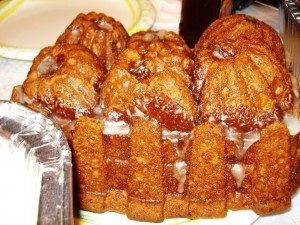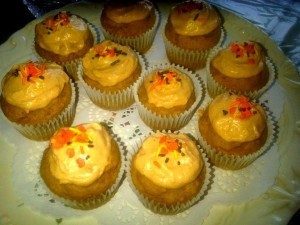 Minutes to Prepare:
15                  
Minutes to Cook: 45                                     
Number of Servings: 12                       

Calories per serving: 125.6 (without icing)
Total Fat: 7.5 g
Protein: 7.5 g
Cholesterol: 25.8 mg
Sodium: 190.4 mg
Carbs: 21.3 g
Dietary Fiber: 3.5 g
Ingredients:
1 cup unbleached all purpose flour
1 cups white whole wheat flour
1/4 cup coconut sugar or cane sugar
2 teaspoons baking powder
1/2 teaspoon cinnamon
1/2 teaspoon allspice
1/2 teaspoon nutmeg
1/4 teaspoon baking soda
1/8 teaspoon salt
2 extra large egg , beaten
1 cup milk of choice, I use Ripple unsweetened
1/4 cup Avocado oil
1 tsp vanilla extract
1 (15 oz) can of pumpkin puree

Directions:
Preheat oven to 375 F . Grease 12 muffin cups or 1 9×5 inch loaf pan with cooking spray.
In a large bowl, combine all dry ingredients. In a smaller bowl, combine the milk, egg and oil. Fold the wet and dry ingredients together just until moist. Carefully fold in the pumpkin. Batter will be lumpy. Bake muffins for 15-18 minutes and the loaf for about 45 minutes.
Let cool to warm or room temperature and then drizzle with vanilla glaze ( recipe follows).
Number of Servings: 12
Vanilla Icing: 
1/2 cup. powdered sugar
1/2 tsp. vanilla
1 Tbsp milk of choice
Whisk all 3 ingredients in a saucepan until warmed through and pour over your pumpkin bread and serve warm or room temperature.
Delicious Pumpkin Bread or Muffins

,
You can follow any responses to this entry through the RSS 2.0 You can leave a response, or trackback.